12/02/12
Danby Beacon
- from Phil Green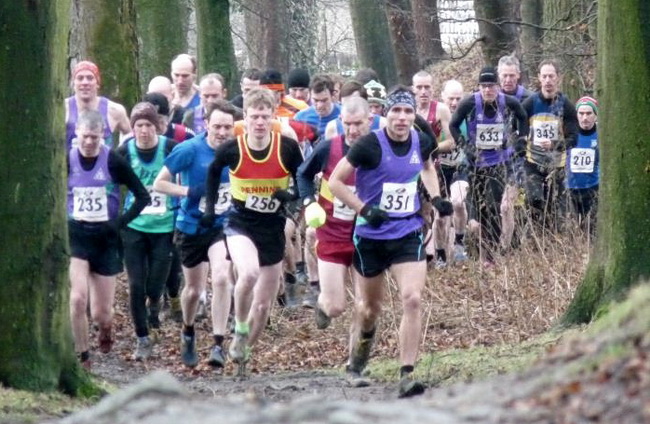 photo: Dave Aspin
Melting ice and old snow, skinned ankles and thighs and generally much falling over and hilarity.
Such was the sport had at today's Danby Beacon fell race. NFR managed a good turn out with both men and women fully represented.
Full details of placing to follow on the Esk valley site but Gaz Jones, Lee Bennett and Charlie Stead were all in the top 5 [7], with Gaz a close second behind Cameron Taylor of Esk valley.
Great runs from all our runners, and only a few bodily complaints at the end.
Steph had some quality scrapage on both legs after going her length on the ice and Dave Johnson did a fantastic 100m sprint after the race finish point... towards the loo.
NFR drew on points with Esk Valley for the mens prize, Dave Parry giving prizes to both teams,
Many thanks to Dave and his team another great event.
Commondale Clart is the next event in two weeks time.
Phil Green
Dave Aspin photos | videos 1 | video 2
Andy Russell photos
Results, report and Dave Aspin's photos & videos on Esk Valley Fell Club website