12/05/12
Fairfield Horseshoe
- from John Duff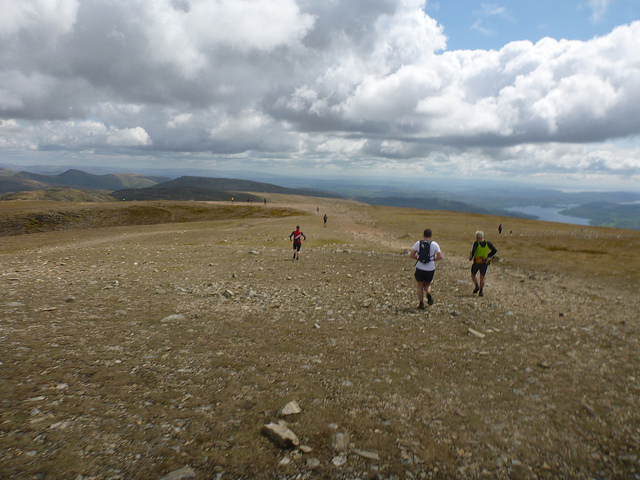 photo: Andy Russell
A select group from NFR took part in the Fairfield Horseshoe fell race on Saturday.  The weather was perfect – high clouds and a cool breeze – and there was a large field of 290 runners.  So route finding was not a problem.
After the initial cavalry charge off the registration field, the worst part of the race came early on – a plodge through some mud/cow slurry which gave an original perfume to all concerned.  There was a steep climb on to the ridge at Nab Scar before a contouring climb up to Fairfield where the views were superb.  After a short technical section over Hart Crag to Dove Crag, there was a swooping grassy descent all the way to the valley bottom.  Various lines were available around (or over for some) the bad step, before the final half mile along the track to the finish at Rydal Hall.
At the finish there was tea and cake (making the entry fee of a fiver look very reasonable) and a compulsory wash in the beck to remove the traces of the smelly plodge.
Star NFR performance of the day was by Karen Robertson who notched up another Lakeland ladies' victory and claimed an impressive trophy.  Marie Drozdowicz was also there for NFR ladies and was 3rd V50.  David Armstrong was first back for NFR with Phil Green not far behind.  Bernard Kivlehan and Dave Johnson finished in close order.  Also there were Trevor Wakenshaw, Richard Cavner, Peter Reed, Phil Middleton, and Andy Russell.
The race was won by Rhys Findlay-Robinson (Dark Peak).  NFR old boy Steve Birkinshaw finished in the top ten and helped secure the team prize for Borrowdale ahead of Dark Peak.
This was a superb race and a great day out.  Many thanks are due to the race organiser and their team. 
John Duff
Phil Green's blog report
more photos from Andy Russell