16/04/12
Gisborough Moors
- from John Duff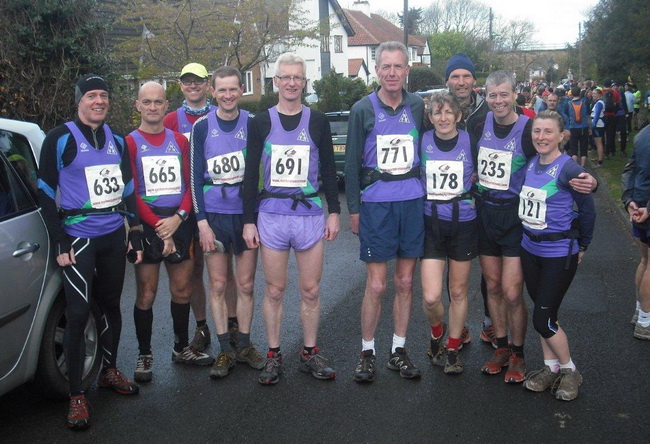 Just a few of the Team - photo: John
Mixed weather at The Gisborough Moors race meant that there were numerous kit options on display.  The early sleet shower cleared through, leaving watery sunshine and a chill northerly wind at the start.  This led to most of the field running in shorts and thermals.  The hardy opted for shorts and vest with accompanying bumbag kit, whilst the foolhardy opted for the same but without the bumbag.
After the initial scramble up through the woods, there was a steady run south over the moor.  The trail descent then road climb to Captain Cook's Monument was done in warm sunshine, but the return leg to Roseberry Topping was into the chilly wind.  By the time the field were plodging their way to Highcliff Nab, a nasty sleet shower was blowing in off The North Sea.  This gave the later finishers a grim run-in, emphasising the point that running round without any kit was not the prudent option.  The final descent through the woods was a greasy slither, but fun if you had opted for studs rather than trail shoes.
Charlie Stead was first home for NFR.  He was followed in by Gary Jones, Lee Bennett, and Gareth Huxley – all of whom were in the top ten.  I wasn't at the prize giving, but think this will have been enough to secure the team prize for NFR.  Phil Green was next in continuing his good form, followed by David Armstrong. 
Karen Robertson ran a perfectly timed race, overtaking the leading lady in the final mile to run home victorious.  Steph Scott, Marie Drozdowicz, and Jill Bennett were also there for NFR ladies.  
There was a superb turn-out from NFR throughout the field, with too many to mention here.  There must have been circa 25 NFRs there.
The next championship race is a trip to the Lake District for The Fairfield Horseshoe.  So put the date in you diary now.  It's an AM Lakeland classic.
John Duff
results will be on Esk Valley Fell Club website
photos and videos from Dave Aspin | photos and video from Robyn and Rowan Bennett | photos from Andy Russell