11/08/12
Howtown Fell Race
- from Old Cheviot (Photos by Andy Russell)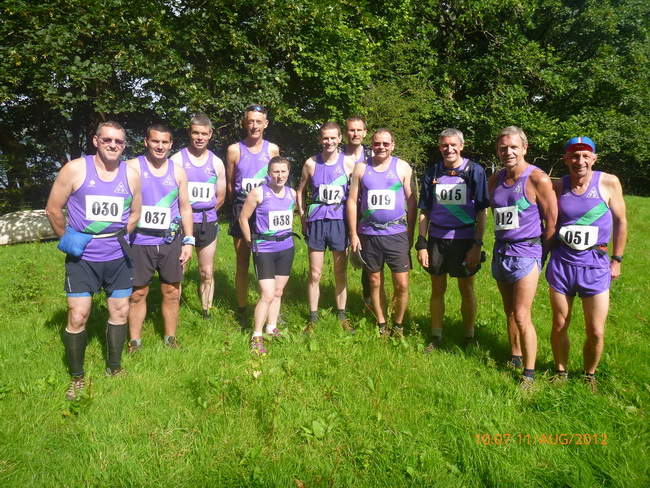 Old Cheviot wiped his brow and looked at the stream of runners heading up Loadpot Hill.  The field had split into at least 3 lines as runners favoured different routes through the bracken.  This was the first time the Howtown Race had been run in earnest – and OC reckoned he was in for route choice aplenty.
The race had started under blue skies at Howtown, making vests and sunscreen the order of the day.  57 runners lined up at the start, with NFR making up over a fifth of the field.  Carl Bell led the way at the start, with Borrowdale in hot pursuit. 
John Tollitt and Geoff Davis blazed the trail for NFR up Loadpot Hill.  Then there was good grassy running along the old Roman road High Street to High Raise.  A cooling south-easterly breeze and some cloud cover kept the temperatures down and made for pleasant running.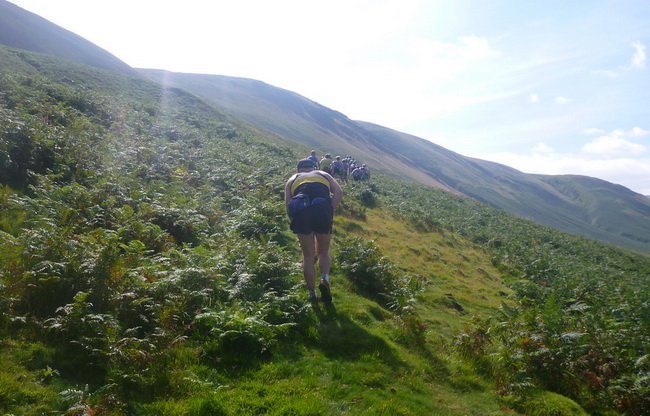 The route headed over Rampsgill Head, before a long descent/traverse to Angle Tarn and Boredale Hause.  There was a stiff climb up Place Fell before a swooping descent to the valley.  Again there were several route choices.  Paul Appleby thought he had spotted a good line, until he realised he was following a couple of children playing on the ridge, and had to thrash through some bracken back to the path.
Once on the valley floor, the heat really built for the last slog up Hallin Fell.  OC stirred his aged bones into action, and endeavoured to keep ahead of Ally MacDonald (Morpeth) who was close behind.  The top of Hallin Fell came as a blessed relief.   Spurred on by encouragement from Kerry Wiseman, OC enjoyed the grassy run into the finish, spotting a red squirrel en-route.  He enjoyed it more than Dave Johnson who opted for the scree descent which Dave reported to be interesting in trail-shoes.  The last 100 yards were cruelly uphill, and OC stumbled over the line to sit down in the shade.  Here he was revived by water and chocolate cake – which was much appreciated.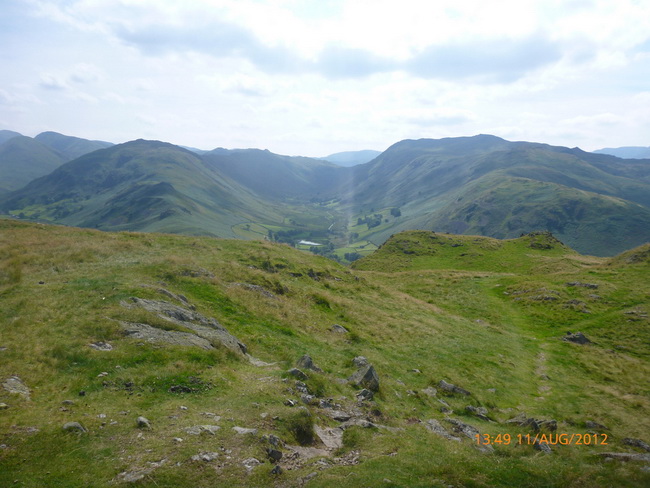 Carl Bell (Howgill) won the race.  Steph Scott was first lady and Denise Tunstall (DFR) second lady.  Peter Reed was second M60.  Also there for NFR were Graham Bingham, Dave Wiseman, Chris Rowe and our anchorman Andy Russell.
This was an excellent addition to the fellrunning calendar, and many thanks are due to Kim Collinson and his team for organising the race.  13 miles of running, 4,500 feet of climb, myriad route choices, and cake at the finish – all for £3.  There was even time for a dip in Ullswater afterwards.  OC could be back for more.
Old Cheviot
Results on FRA website
more photos from Andy Russell
Photos by Stuart Stoddart here