9-10/06/12
Lowe Alpine Mountain Marathon
- from John Duff (with photos from John)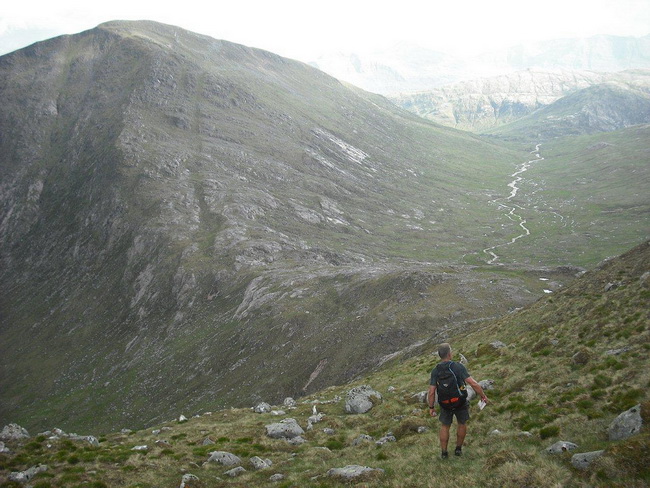 heading for Beinn nan Aighenan
Paul Hainsworth and I were back at the LAMM at the weekend.  It was held at Ben Cruachan, which is on the Tyndrum to Oban road, north-west of Loch Lomond.  As we waited for our bus to the start, a marshal held up a sign "EA".  He cheerfully announced that it stood for "extremely 'ard" (rather than elite and our chosen A class).  This was a fair summation of the day – it was the toughest mountain marathon that I have done.
Day 1 was billed as 32km and 1800 metres of climbing.  There was the novelty of a boat ride across Loch Etive to our designated start.  But after that the serious work started – with over 10 miles of plodding across trackless tussocky terrain.  Luckily the clouds were high and visibility was good, though it was still and humid.  It was a very long and committing day, culminating in a savage climb from sea level over a Munro.
We finally rolled into the midcamp after 8.25 hours feeling pretty tired.  Paul was a trooper and stoically boiled water for the evening meal despite the midges making their presence felt.  I simply lay in the tent and gratefully accepted the proffered tea and soup.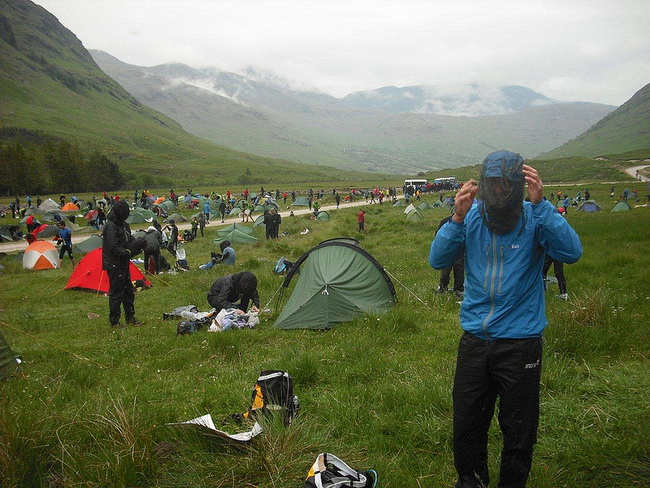 Paul fighting off the midges on Sunday morning
Sunday morning was officially midge hell.  The little blighters were everywhere, making a visit to the slit-trench toilets an unforgettable experience.  So we packed up early and were on the go soon after 6 30 am.  Day 2 was a better course through high Munro country, culminating in an ascent of one of Ben Cruachan's minor summits.  The clouds were lower at about 750 metres, but there were still enjoyable peeks through the mist as we followed the ridges from one Munro to the next.  It was another hard day, encompassing 24km and 1700 metres of climb.  After a tough 7.25 hours, we arrived back at the event centre 17th out of 32 starters. 
Generally our navigation stood up to the test.  Despite the odd wobble, we found all the checkpoints OK.  We tended to opt for an "up and over" approach, rather than endless contouring – mainly because it was more enjoyable running on the ridges.
On the elite course, Duncan Archer and Jim Mann (both DFR) retained their title.  Also on the elite were Francis Blunt (2nd) and Andrew Higgins (9th).  Ben Rowley won the B class with his brother Tom.  Frank Shillitoe finished 5th in the score class, and Charles Scott completed the C course without a midge net (proving that they breed them tough in NFR).  It was, as always, an excellently organised event.  Many thanks are due to Martin Stone and his team.  Results, photos, and further reports are available at www.lamm.co.uk .
more photos from John
John Duff