13/10/12
Langdale Horseshoe
- from Dave Johnson (photos: Andy Russell)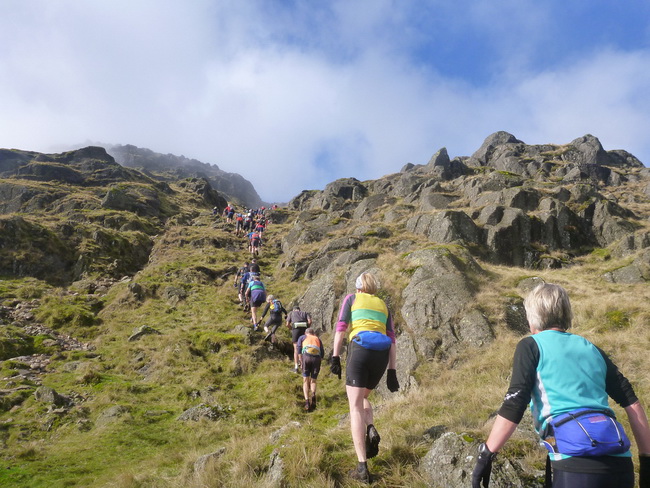 climbing towards Thunacar Knott - photo: A. Russell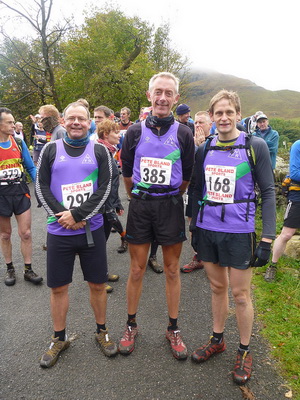 Andy, Dave and James
Four NFRs, Mark Clarkson, James Charlton, Andy Russell and Dave Johnson took part in this year's race.
As I made my way over from Rydal the weather wasn't too promising. With the cloud level almost down to valley level I was resigned to discovering yet another new route between Bowfell and Crinkle Crags. At the head of Langdale though it was a different story, the cloud was low but it was the type of cloud that promises better things higher up. This promise was well and truly delivered today and it was the first time I have done this race with the highest summits clear of the clag.
After the team photograph, sans Mark, who scuttled off for a warm up just as Andy attempted to buttonhole him, there was a minute's silence in memory of Darren Holloway, the runner who tragically died at the Ian Hodgson Relay's.
I managed a fast start by getting near to the front to avoid most of the crush you get running along the valley to the New Dungeon Ghyll. Andy managed the same by starting at the back, Consequently I was knackered but well up on my previous best time at Pavey Ark. Martcrag Moor's bogs were in fine form but I managed to stay clear of trouble only to do a face plant just after getting clear. This was the first of the day's four falls. I achieved a full set by going down on my right side, my left side and finally on my backside coming of Blisco!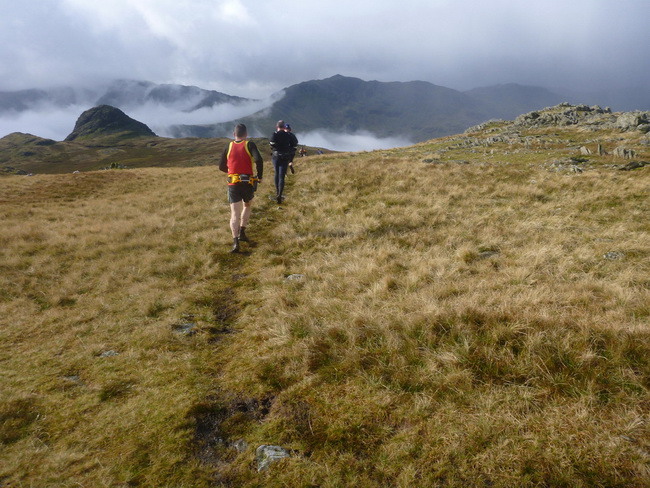 low clouds - photo: A. Russell
I was glad of the fast start because the mud and slippery rocks, they may as well have been covered in verglass, slowed me down considerably. Around Bowfell and the Crinkles I for one was tiptoeing over sections I had run in previous years but at least the skies were clear and this time I took the good line to Long Top. It was busy at the bad step so I took the left hand avoidance route and looking back I was glad I had. there must have been a queue of ten people waiting to climb down. The run over to the cattle grid via Blisco was a bit tedious in the heavy going but the frequent fallers caused much cursing and merriment for all concerned.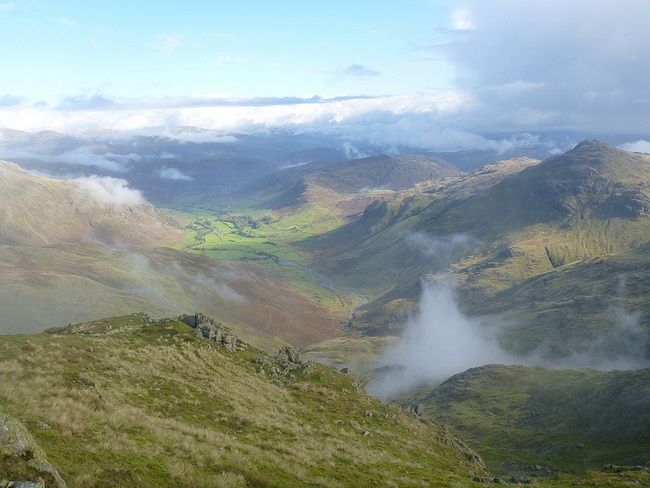 Langdale Valley - photo: A. Russell
Mark and James seemed to have had good runs judging by their finishing positions and I just managed to squeeze out a PB. I was quickly put in my place by Andy though. He had a massive 39 minute PB despite taking photographs en route and had there been a prize for the most improved runner, he would surely have won it!
A mix of pasties, beer, coke and tea at the ODG rounded off a good day of racing.
Dave Johnson
more photos from Andy