13-14/10/12
Manor Water Hill Race and Pentland Skyline
- from John Duff
Man or Mouse 2012
NFR was in action in Scotland over the weekend.  Round one was the Manor Water Hill Race near Peebles.  This 10 miler is an out and back race to The Scrape, and crosses the route of the Two Breweries Race.  Conditions were wet underfoot, with a bit of drizzle to boot.  But unlike last year, the visibility was clear, allowing good views of the leading runners charging back from the summit.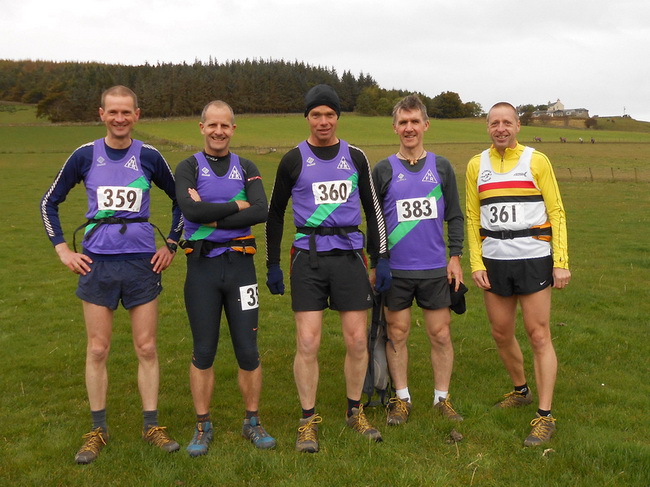 John D, John T, Paul, Alastair and David Lowe - photo: Dougie Nisbet
David Lowe (Alnwick), enjoying his first fell race, was first back from the North East contingent.  I was just behind him, with Paul Appleby and Alastair Paul soon in afterwards.  John Telfer was our anchor man.  Dougie Nisbet (DFR) was also running.  Incredibly for October, the midges were out at the finish.  So we quickly grabbed our bottles of beer (presented to each finisher) and headed for the tea tent – just making it there before the heavens opened.
After some rest and rehydration in Haddington courtesy of JT, round two was the Pentland Skyline on Sunday.  Although the hills are under 2,000 ft, there are 16 of them.  So this 16 miler packs in 6,000 ft of climbing.  There was a large field of 267 runners, swelled by the race being a Scottish championship.  Billy Fraser joined JT and me on the startline.  There was also a Norham contingent there (Tim McCall, Rob Stankiewicz, and Bill Pickett).
Conditions were mild at the start, with clearing mist and little wind.  However they went downhill rapidly in the middle of the race when a nasty squall blew in – leading to most runners donning thermals and jackets.  The second half of the race is billed as the hardest – with some Kielder Border-esque heather bashing and Tour of Pendle-like steep ascents.   But the food en-route is good, and I tucked into the flapjack which kept me going.  I was also lifted by the views over Edinburgh and the Firth of Forth.  I finished just ahead of Billy.  Tim McCall had come in 5 mins earlier, and Rob and Bill from Norham finished soon afterwards.  JT was once again our anchor man.
For those brave (or foolhardy?) enough to run both races, there is a Man(or) Mouse competition.  21 runners took on the challenge.  Andy Fallas (Carnethy) was the Man.  There were 3 ladies in the top five (Jasmin Paris leading the way).  I was back in 14th.  But who was the Mouse?  Let's just say, if you spot JT putting cheese into his bumbag for the next race, you will know the reason why.
These were both excellent races, well organised by Carnethy.  A combined entry fee of £9 secured 26 miles of running, 8,200 feet of climbing, and plenty of refreshments (both cake and bottles of beer).   Not forgetting of course, celebrity mouse status.  Results and photos are on the Carnethy website.
John Duff
Report from Dougie Nisbet on Elvet Striders' site, and more of Dougie's photos here