17/03/12
Middle Fell Race
- from John Duff (photos by Lee Bennett)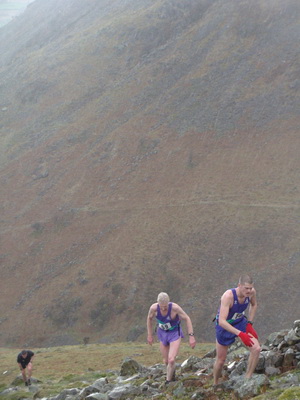 Scott and Dexter
12 runners from NFR made up nearly a quarter of the field at the Middle Fell race (6.6 miles, 1700 feet) in Nether Wasdale on Saturday.  The weather was mild at the start with little wind and blue skies trying to push the cloud aside.  This led to many of the field setting off in just shorts and a vest. 
After a lung-bursting dash along roads, tracks, and fields for 2 miles, the route passed through Greendale and turned left on to the fell proper.  Here 2 things happened: the gradient increased sharply and, in true Cumbrian style, it started to rain.  At least the rain was better than the hailstones which lay on the ground.
After briefly following the Wasdale route, the racing line headed diagonally right up the nose of Middle Fell following a faint path through bracken, stones, and mud.  This was an out and back route, so near the top we were greeted by the returning runners – with race winner Simon Booth leading the way.  Once the field had rounded the summit cairn, it was straight back down the path to the valley floor before retracing the route through the fields to the finish – which now seemed a very long 2 miles away.  The rain did relent for the descent and, if you had time to glance up, the views over Wastwater to The Screes ridge were magnificent.
David Armstrong was first to the top for NFR.  He was caught on the descent by Scott Gibson, but managed to reel Scott in on the long run-in.  David and Scott finished 7th (1st V50) and 8th respectively.  Next to the top was Karen Robertson.  George Nicholson and I passed her on the descent, but she still finished first lady by a margin to notch up another Lakeland victory.  She was followed in for NFR ladies by Steph Scott and Jill Bennett.  Richard Cavner was first V60 – proudly clutching his bottles of wine.  Also running were Joe Garbarino, Mark Brooker, Bernard Kivlehan, and Tony Mate making his debut in NFR colours.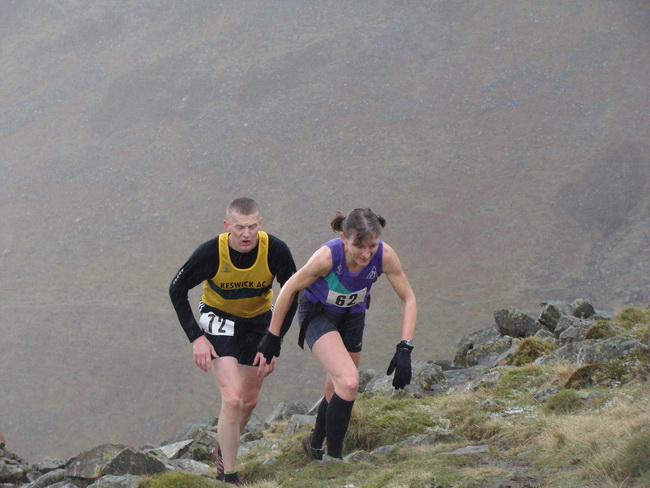 Karen
Afterwards in the pub, the Cumbrian "tattie pot" went down very well.  The general consensus was that the race had been a worthy addition to the NFR championship, and that a good time had been enjoyed by all.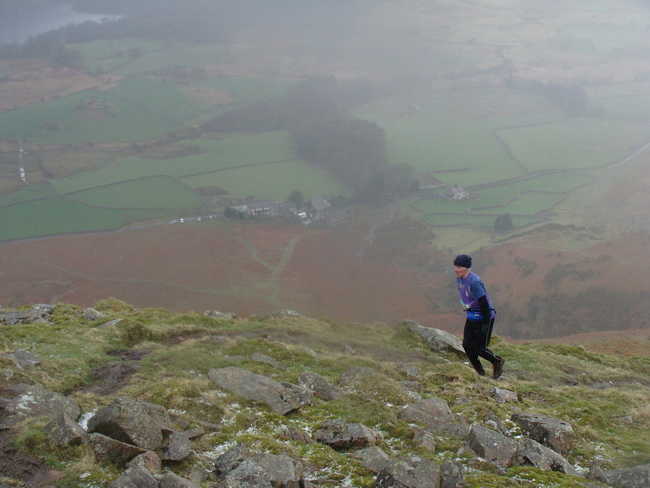 Joe Garbarino
John Duff
photos by Lee Bennett