01/01/12
Nine Standards Race
- from John Duff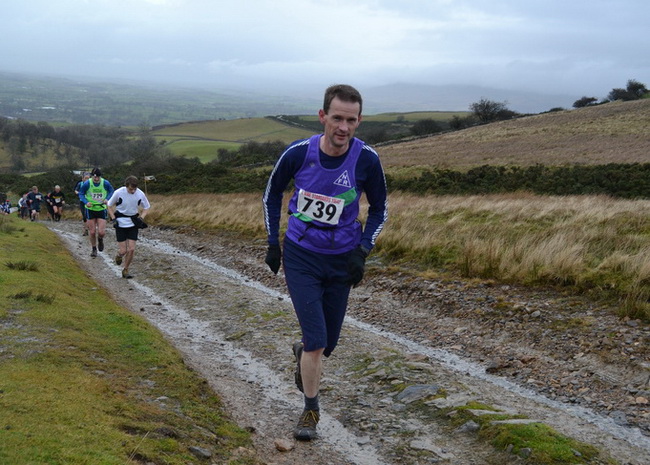 photo courtesy of Stu Stoddart
This was a new race to me.  But having spent New Years Eve in Keswick, I was in the area so decided to enter it.  The race is an out and back route to Nine Standards Rigg from Kirkby Stephen.  Chatting to Carl Bell beforehand, he described it as "a long pull up, then a long descent back".  This pretty well summed the race up.   
The first half was on roads/paths, before hitting the fell for the second section.  Despite all the roadwork, I opted for studs.  This proved to be a good move as the course was very wet – not least from a torrential downpour one hour before the midday start.  This was, however, an improvement on the two previous years when snow had covered the course.  Visibility was good throughout, with Wild Boar Fell nearby looking impressive.
Over one hundred runners started from the Market Place in Kirkby Stephen.  I took it steady on the run-out, gradually gaining a few places as the climb unfolded.   The main hazard on the race was a crossing of the Faraday Gill near the summit.  There was a footbridge surrounded by innocuous looking puddles.  These turned out to be very deep – Aly Raw (Bingley) in front of me nearly went in to her waist.
The turning point was a circle around one of the Standards (large cairns) on Nine Standards Rigg.  Then it was time to head for home and crank up the pace on the descent.  The road section seemed to go on for a bit with a couple of hills which had mysteriously appeared from the outward leg.  But eventually I was legging it back into the Market Place to finish in 1 hour 8 mins in 35th place.
Afterwards there was soup and tea in the local social club.  Here I chatted to a couple from Ilkley about the LAMM and lamented the metrication of the FRA calendar.  [Top tip – keep last year's calendar for details of all your favourite races in miles and feet.]
The race was won by Carl Bell (Howgill) with Kim Collinson (Eden Runners) second.  Pippa Maddams (Keswick) and Lauren Jeska (Todmorden) jointly won the ladies' race, breaking the record in the process.
This was an excellent race organised by Paul Brittleton and his team – to whom many thanks are due – and a good way to see in the New Year.
John Duff