19/05/12
Old County Tops
- from John Telfer
OLD COUNTY TOPS – 37 miles & 10,000 feet of ascent
May 19, 2012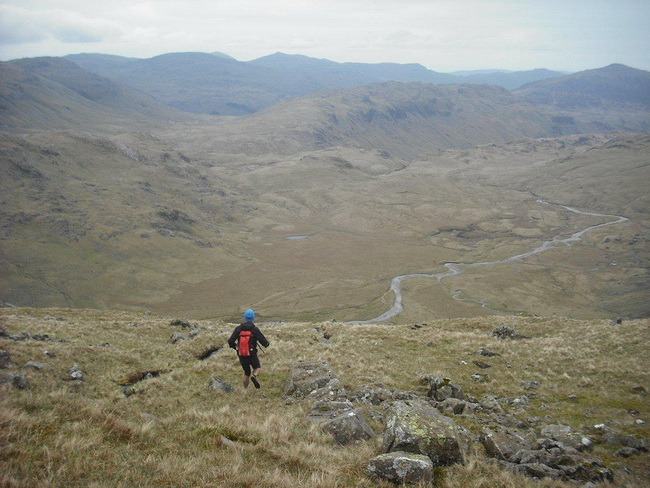 descending Scafell Pike - photo: John Duff
Whilst the ultimate honours for this expedition went to ex NFR Steve Birkinshaw and his partner Tom Gibbs (Ambleside) in a time of 7 hours 3 minutes there was good performances amongst the North East representation making up the record field of 103 pairs, with 80+ making it through to the finish to earn the much coveted race T-shirt.
Our top NFR finisher was Francis Shillitoe running with Tynedale Harrier, Paul Gaines followed in by Team John (Duff & Telfer). Ruth Dance made up the NFR quartet pairing up with Eric Blakie (Ambleside). Tynedalers, Bev Redfearn and Rachel Chinnery were also joined by Hexhamish based Nick Wild and Paul Myers who all had good runs with the latter two demonstrating that most crucial of all fellrunning skills which I cherish above all else later that evening in the bar of the New Dungeon Ghyll.
Pre Race
The Langdale chorus of various life-forms on Robinson Place Farm roused me from my slumbers around 6am in sufficient time to make my rendezvous at with an early full English breakfast which Desperate Dan would have proud of. Having stayed in accommodation spanning 4 continents it was the first time I have ever been served breakfast with the greeting of "If there's nothing else you want I'm off to see to the sheep."
Down at the New Dungeon Ghyll I met up with John to queue in the light but noticeable drizzle whilst Stewart Barrie went off in search of his partner who he had found through the fellrunning version of speed dating on the FRA Forum a couple of days earlier. Rigorous kit checks were undertaken for all 200+ runners probably made easier that due to the conditions a fair amount of it was already being worn.
A brisk walk down to the car park for our final instructions and we were sent on our way under brooding skies and a noticeable breeze but thankfully the rain had ceased.
Great Langdale to Helvellyn
John & I set off about mid pack agreeing, masters of tactics that we were, to run what we could run and not do anything silly on the uphills. Within 200 yards of the start my water bottle had fallen out almost causing a pile up as I stopped to pick it up. After about half a mile we left the farm track to join the main road with the obligatory wag shouting "Well done, only  another 36.5 miles to go" to all and sundry – oh how we laughed, all done to the cacophony of a young lady ringing a cow bell for all she was worth.
The first ascent of the day takes runners up and over the outlying flanks of Silver Howe affording magnificent views of the Langdale valley around Chapel Stile. As we approached the col it was amazing to see, in such a short space of time and distance how stretched out the field had become.
The descent down into Grasmere was treated with the utmost respect. Woe betide the unwary fellrunner who thinks this is the ideal opportunity to stretch your legs and up the pace. A greasy rocky path and swampy, slippy ground lies in wait and as in previous years someone ended up going flipside, happily without lasting damage but enough to serve as a salutary warning for the more savage descents which lay ahead.
We maintained a steady and sensible pace not saying much, getting into our stride with the amusement value being provided by one individual who specialised in haring off ahead only to stop at every stile and gate to wait for his partner who was not venturing forth at such a prolific pace.
Once through a still drowsy Grasmere and half a mile along the A591 we turned up off at Mill Bridge (cue re-appearance of cow bell young lady) and progress up initially alongside Tongue Gill on the route that goes up to Grisedale Hause. It is here you begin to really feel the magnitude of the enterprise you have embarked upon. A stiffening wind, portents of worse to come, a seemingly never ending and steepening pathway as visibility closes in on all sides merely adding to the sense of foreboding and possibly a little sprinkling of doom.
By the time the path along the Tarn is reached hoods are up, gloves are on and we are hunched within ourselves in an attempt to stave off what is turning out to be a raw and chilly morning. Fortified with jelly babies and chocolate, John strikes out on the first of many of his legendary lines (both verbal and navigational) of the day, done in such an assuring manner that we find ourselves away from the madding crowds save for one couple who have obviously adopted the "they must know something we don't" approach. After an interminable 1,000 feet of climbing we arrived spot on the main path which took us all the way to the summit of Helvellyn and the first checkpoint of the day, manned by impossibly cheerful marshalls who obviously enjoy a bitter skin stripping wind.
Helvellyn to Scafell Pike
Although my third OCT this was the first where the initial descent off the summit was a case of just following the footprints in the snow, but that is what we did. As ever the field seemed to scatter in a multitude of directions, right, left and centre. We elected for the Geronimo option or as John put it "just like stepping off the edge of the earth" such was the steepness of the descent. However, unlike my last foray over Lakeland turf my fell shoes did their job gripping the turf with all the tenacity and determination of a dog chewing a well-loved bone.
The second checkpoint at Wythburn (pronounced Wyb'n) was the cue for jam sandwiches and fruit cake in abundance before the slog through the unremitting bog that is the never ending trudge along the valley to Greenup Edge. In the mini heatwave of 2010 it had been a muddy sponge from start to finish so not much imagination was needed to imagine its condition after the wettest April on record. John's running commentary on the sounds and sights from the ornithological world helped pass the time in what can best be described as a rather uninspiring landscape.
Whilst a retrospective of the Helvellyn range showed it still to be draped in cloud all that lay ahead was clear. By the time we made it up to the top of Flour Gill there were magnificent emerging, albeit slightly pallid, views down into Borrowdale and all the way round to the Scafells.
A period of downhill trackless running again had the field spreading out in all directions. John set about his task of navigating amongst the moraines and above crags to ensure we lost only the necessary amount of height tempting though it was to take the direct line. It served us well and we arrived at Angle Tarn, if not exactly feeling as fresh as daisies, in good spirits and well girded for the big stuff that lay ahead. The cabaret at this point was provided by one individual (not the same one that I referred to earlier) who was having very earnest words with his partner whose sole crime appeared not to have been moving at the desired pace of said earnest wordsmith. No "I" in "team" then !!
In addition to having hit the psychologically important half way point the beauty of the next section up to Esk Hause is that other than for one very short stretch the whole way can only be walked (well by us anyway). This provided an excellent opportunity to stuff our faces and have a jolly good natter about what had gone before, what lay in store and anything else that took our fancy.
Just beyond Esk Hause Francis Shillitoe and his partner Paul Gaines caught up with us (or should that be they "gained" on us?) and after enquiring why it had taken them so long to overtake us they were on their way. Despite the earlier rain the boulders across to the Pike were dry and with John waltzing gazelle like ahead showing me exactly which loose stones to avoid we arrived at the Pike in one piece and even managed to overtake a couple of couples (should that be couple2) on the way. We knew that Steph was out reccieing in these parts but we didn't see her and even more surprisingly we didn't hear her either !!

Scafell Pike to Coniston Old Man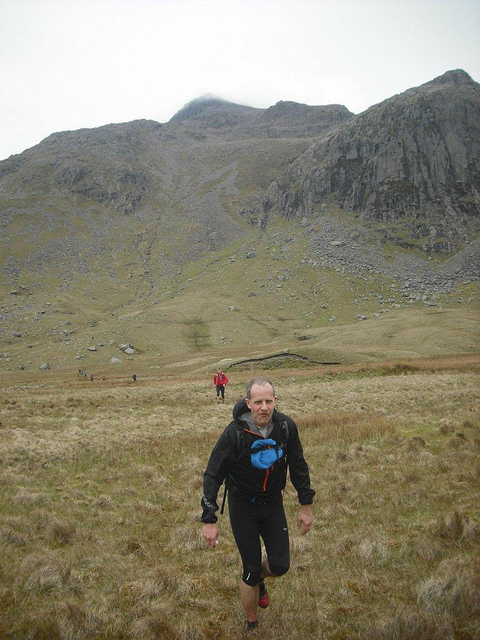 crossing Great Moss - photo John Duff
The direct route off the South summit, rather than the retreat back to Little Narrowcove, once the preserve of only those "in the know" now seems to have gained common currency and so now it is no longer a case of "if" you go down this route but rather by which route? Once again sly fell fox Duff had the answer to this and chose a line (and I'm not telling you which one!) which even with me bashing my toes on numerous rocks and descending with a bit more caution still took us down to the valley floor of Eskdale just in time to ask the still descending Francis and Paul what had kept them. This reversal of fortunes lasted all of a nanosecond as they pounded on.
The trek across Upper Eskdale was the cue for my first visitation from the demons. Having been going well (by my standards) up till now I began to feel light headed, leaden legged and generally miserable. I took this as a cue to break out the emergency rations and have a few angry words with myself. John responded magnificently recognized there was no point in pushing on at an unacceptable pace suggesting we just walk for a few minutes. I am not sure if it was the rather surreal conversation about scenes from Blackadder Goes Forth and Dad's Army, a truly awful joke about a circus clown or the effects of my feeding frenzy but what could loosely be termed as "Normal service" was resumed just in time for the pull over the flanks of Hard Knott and the stony and boggy descent into Cockley Beck where afternoon tea was being served – headed up by the legendary egg sandwiches and assorted cakes all washed down with tea.
Somewhat reluctantly we bade our farewells to take on the monster that is the ascent to the Grey Friar col. Stewart and I had walked up it the previous day and couldn't recall why we had made such a fuss about it when we had done the race in 2010. The point we had overlooked the previous day was that we hadn't already run / walked 25+ miles and climbed c 8,000 feet.
We were joined at this point by the Keswick duo of Jo Gillyon and Catherine Evans who were leading and subsequently went on to win the Ladies race and after the obligatory comments by us about two old women joining up with two young women they, either on account of these comments or because they thought they had a better line, disappeared on a completely separate route.
Despite this jolly bit of social interaction and recent refueling it was not sufficient for both John and myself to be attacked by the dark demons which left us both in a state of near intolerable displeasure. Although there was never a thought of turning back the next ten minutes was undertaken in complete silence with heads bowed displaying all the enthusiasm of two condemned men on their way to the gallows knowing their fate was to be a fate worse than death.
Matters perked up slightly when we reached the ruined wall which signified we had taken care of 1,000 feet of our 1,600 feet ascent but also to note that we were ahead of the Keswick ladies who had just appeared from behind a crag off to the left. Having seen the fine pace they were going at and recognized the fine pace we were not going at I concluded that, for all our discomforts, we had at least chosen a good line on which to be miserable.
The run out to the Old Man was taken at a sensible pace as we even managed to overtake a pair of pairs (should that be pair2?) and keep slightly ahead of the Keswick ladies until just before the Old Man checkpoint as the first full-on sunshine of the day appeared giving spectacular views back to the Scafells and all around the Duddon Valley. Our return journey back along the ridge and down to the Three Shires Stone checkpoint was done in almost splendid isolation barring one pair who came by us around Levers Hause.
The tarmac section down Wrynose Pass was particularly unforgiving on tired joints but we managed to catch one pair and caught up and passed another couple along the rocky and wet path to Blea Tarn. At last we crested the ridge which separates Great from Little Langdale and without a shadow of a doubt it truly was all down hill from here. As we ran behind the campsite the pair who had overtaken us on Levers Hause came into view and with a 9 hour 15 minute round in sight we upped our pace. However, we soon concluded we weren't going to catch the pair so we did the next best thing. So whilst they stayed high on the path that runs behind Side Pike Farm John pulled his last rabbit out of the hat and led an expert line across the field cutting out two sides of the triangle turning the pursued into pursuers. One more farm gate, two hundred yards or so of tarmac and mission was accomplished with an a slightly understated feeling of elation given we were both a little puce around the gills but job done. We completed the round in just under 9 hours 15 minutes, a mere 2 hours 12 minutes behind the winners but still good enough for 33rd position.
After a moment or so to take it all in it was off the tea table to re-energise on a further round of sandwiches and cake washed down with tea and more cake. Stewart had kindly given up his race at Cockley Beck to welcome us back and seemed reasonably content on having had his longest day out since his top 5 finish in the 10 Peaks race last July which had put paid to so much of his running since.
Nick and Paul arrived back just as rigor mortis was setting into my legs and I was around to see Bev and Rachel over the finish line, like all the other runners full of smiles, more out of relief I think than the fact that we had all being having so much fun over the past 10 hours or so.
With life draining back into us and the trivialities of the day behind us it was now time to prepare for the main event of the day being the rehydration competition which took place over a good few hours in the New and Old Dungeon Ghylls. This was the opportunity to pay a fulsome tribute to my partner noting how impressed I had been by the fact that it had taken 7 hours in my company before he started to feel sick.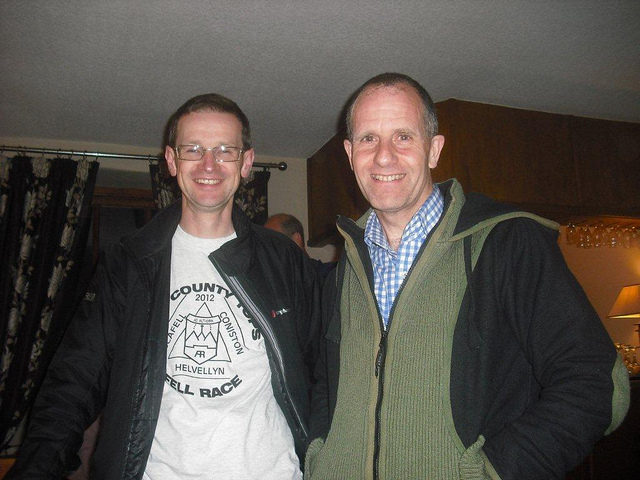 John D and John T - photo: John Duff
This was another truly epic and sometimes humbling experience and one hell of a way to earn a T-shirt. The race organization, marshals and not forgetting the food was without fault and we all owe the good people of Achilli Ratti our unconditional gratitude for allowing us all such to have such a grand day out.
Roll on May 18, 2013.
Results and all you want to know about the race can be found here:
http://www.achille-ratti-climbing-club.co.uk/
John Telfer
photos by John Duff