27-28/10/12
The OMM
- from John Duff (with John's photos)
The OMM provided two contrasting days this year.  Saturday was cold, clear and sunny.  Sunday was also cold, but the sun had given way to wind and rain.  The benign conditions from day one had gone, and day two provided a test of even the stoutest navigator's mettle.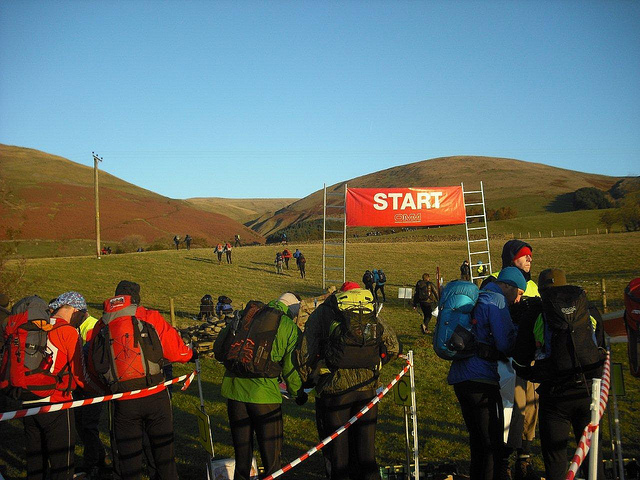 the start
The event was held in the Howgill Fells, with the event centre at Sedbergh School.  I was running the A class with Paul Hainsworth.  Saturday dawned crisp and sunny but very cold with a brisk northerly wind and frost underfoot.  We were soon straight into the heart of the Howgills, utilising our limited local knowledge with some of the Sedbergh Hills and Weasdale Horseshoe routes.  We made fast progress with good running on the grassy tops. 

The Howgills from Knoutberry Haw
The route then headed east, with the second half crossing Wild Boar Fell and Knoutberry Haw.  I had climbed both before, so again some local knowledge helped – but it couldn't save us from the man-eating rush-beds which appeared with monotonous regularity.  We arrived at the mid-camp after 7 hours of running – tired but pleased with our performance and not having made any navigational errors.  We crossed the line in company with Jim Thompson and Fred Smith (Saltwell).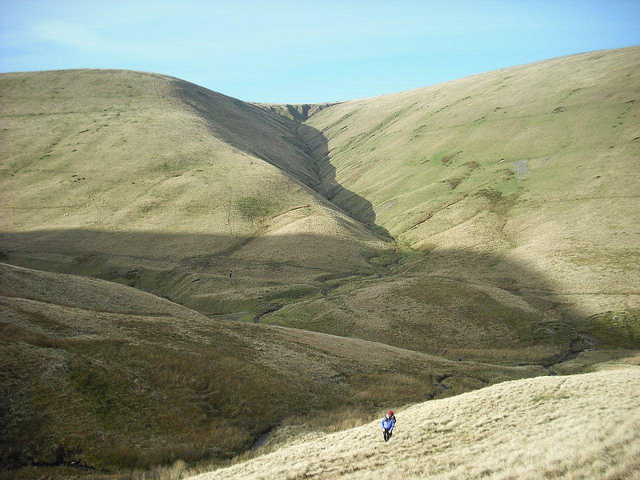 Climbing out of Bowderdale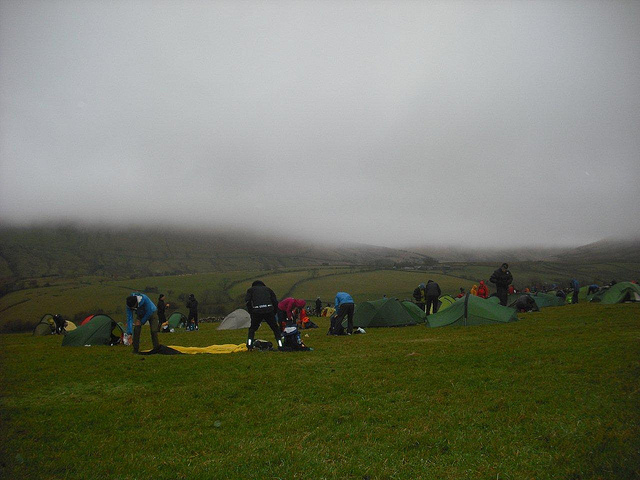 Clouds down for Day 2
Any navigational smugness was soon dispelled on day two.  The mist was down and we made a complete mess of finding checkpoint 2.  The ruined sheepfold on Wild Boar moor was hidden below a little crag and it took us 3 attempts to find it.  Paul cheerfully commented that we needed to improve our micro-nav; I was more downbeat, concluding that I now knew I was a fellrunner rather than an orienteer at heart. 
At least this made us concentrate for the rest of day two.  We were soon back into the Howgills, with a series of steep climbs from one valley to the next.  We redeemed ourselves with an excellent bearing off Break's Head (Paul's good work) to find a tricky re-entrant in the mist, then opted for a low-level route around The Calf when the weather was truly grim towards the end.  We both flagged a bit here.  However round a corner we came across Jim & Fred (Saltwell).  With a shout of 'Come on John', Paul spurred us on and we beetled off for the last steep climb.
We crossed the line in just over 7 hours 30 mins, tired and wet but having enjoyed the day.  The general consensus was that the conditions had made day two harder than day one.  There was a significant dropout rate with only 29 finishers.  We were 20th.  Joe Faulkner and Louise Wilkinson, aided by good nav and determination, weren't far behind us in the A class.  John Tollitt was also there competing in the D class, and Frank Shillitoe had a good run with Paul Gaines in the Long Score.
Over fish and chips in Kirkby Stephen on the way home, we concluded that this had been an excellent OMM with plenty to keep two fellrunners entertained.  Roll on 2013.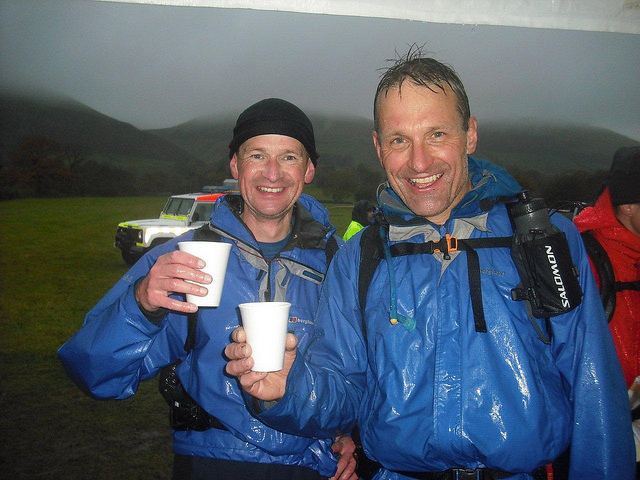 John and Paul at the finish
more photos from John
John Duff