17/11/12
Tour of Pendle
- from John Duff (photos: Andy Russell & Jane Saul)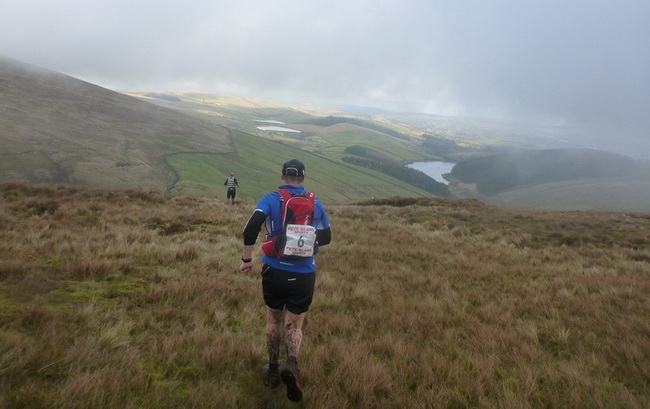 photo: Andy Russell
NFR mustered a team for the Tour of Pendle (17 miles, 4500 ft) on Saturday.  Paul Hainsworth, Andy Russell and I were the runners; Jane Saul was our official team supporter and photographer.  We drove down through rain and mist, but this cleared out before the start to leave a mostly clag-free day.  It was very wet underfoot after the night's rain, but otherwise conditions were good for running.
There was a huge field of 350 plus runners.  This meant navigation was not a problem with 'follow my leader' being the order of the day.  The steep descent to checkpoint 4 – Geronimo Hill – was highly entertaining (according to Jane) with many runners sliding down on their backsides.  The final climb up Big End to the top of Pendle Hill doesn't get any easier.  But at least after that it was all downhill to the finish.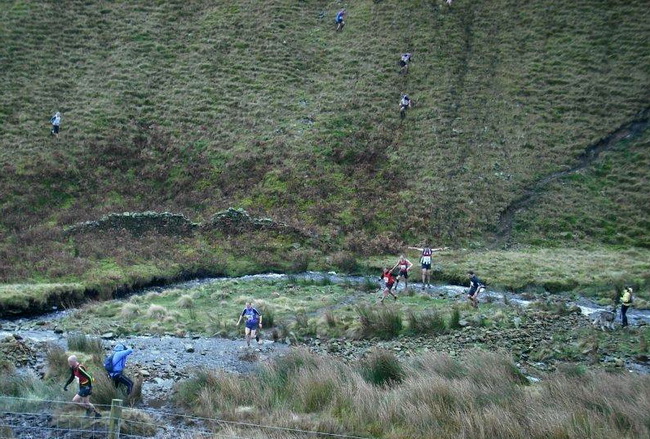 John crossing the burn after Geronimo Hill - photo: Jane Saul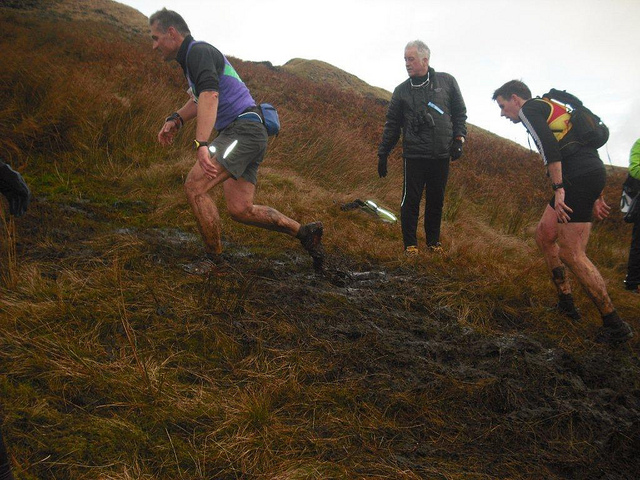 Paul after checkpoint 4 - photo: Jane Saul
I finished in 3 hours 7 mins.  Paul was next back in 3 hours 19 mins.  I didn't see Andy at the finish to find out how he got on [Andy got round in 4hrs 5 - 31 mins faster than last year! - Rob].  The tea and soup were splendid in the village hall afterwards.  The race was won by Carl Bell (Howgill) ahead of Ian Nixon (Pudsey & Bramley).  All in all it was a grand day out.  Many thanks are due to the organiser Kieran Carr and his team.
John Duff
photos by Jane Saul
photos from Andy Russell