22/09/12
Two Breweries Hill Race
- from Old Cheviot (photos by Dave Johnson)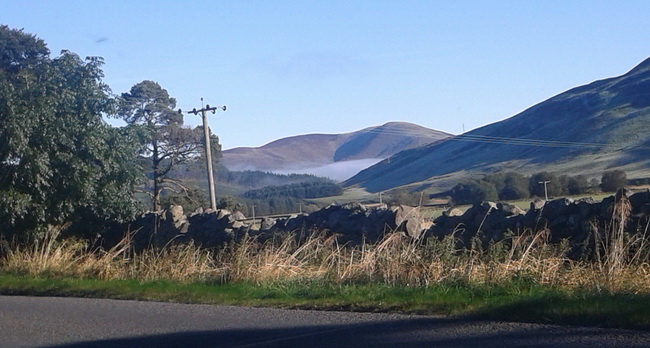 Trahenna in the morning - photo: Dave Johnson
Old Cheviot toiled manfully up Trahenna, zigzagging up the steep heathery slope, and feeling every year of his lengthy fellrunning career.  It was the last climb of The Two Breweries Race, and most definitely the toughest.   But there was free beer at the end!  Spurred on by the thought, he crested the ridge and began the descent to Broughton.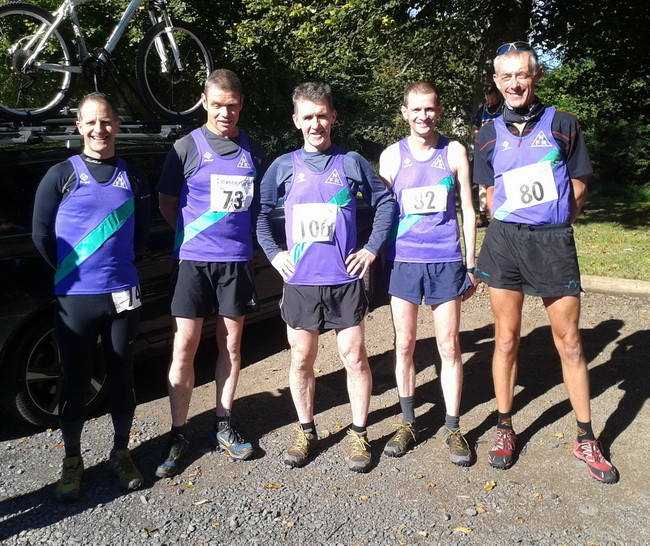 JohnT, Paul, Alastair, John D, Dave - photo: Dave Johnson
6 NFRs had gathered at the start in the beautiful surroundings of Traquair House and gardens.  The sun was shining, there was no wind, and the early morning frost was burning back.  On the stroke of 12 noon, a good sized field of circa 130 runners charged up the grassy ride and on towards Birkscairn Hill.  Billy Fraser took it out for NFR, followed by Paul Appleby. 
After 50 minutes of running and climbing, there was the first steep descent to the burn crossing at Glensax and then a steep climb of Hundleshope Heights.  OC felt good on this climb, and enjoyed the high-level traverse to the third hill Stob Law.  After descending to the first drinks station at Glenrath, a forest ride led up the fourth hill Whitelaw.  A pleasant grassy descent turned into a horrid stony one, before a run along the road to Stobo Castle. 
Here for many the rot set it.  What should have been a gentle trail run through the woods, turned into a never-ending grind.  Dave Johnson reported feeling sick along this section.  John Telfer took his mind off the climb by reminding everyone who asked (and anyone who didn't) that he had finished 248th in the CCC.   OC simply girded his loins and ploughed on.
But after the long climb, Trahenna was finally over and runners could look forward to the finish at the gates of Broughton Brewery.  Alastair Paul was so distracted by this, that he missed the contouring path to Trahenna nose until a fellow runner called him back.   But once Alastair was on track, he crossed the finishing line and was rewarded, like all the runners, with a bottle of Broughton Beer.
As NFR enjoyed a debrief over tea in the village hall, it emerged that John Duff had come in first for the club, followed by Billy, Paul, Alastair, Dave, and John Telfer.   Bill Pickett from Norham RC was also there, returning from illness and pleased to finish.
The general consensus was that this had been a tough but enjoyable race.  So tough, that Paul struggled to eat his soup and bread.  However OC can reassure readers that Paul and JT still managed to slake the raging fellrunner's thirst in the evening in Haddington.  Many thanks are due to the race organisers – roll on the 30th race next year.
Old Cheviot