08/06/13
Alwinton Fell Race
- from Keith Cooper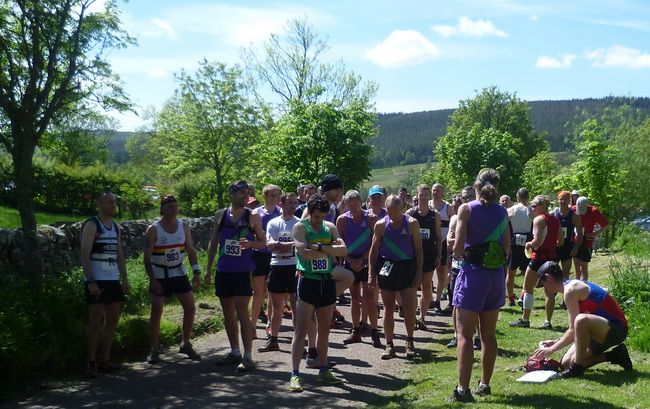 photo: Keith
There were a pleasing number of runners for the twenty seventh running of this event. Many were unattached and some were having a go at their first fell race. It was a fine sunny day with a light breeze; the colours were brilliant and the views good. The conditions on the open fell were on the wet side but the times overall were faster than last year.
For a second year a relative newcomer to the area, though not to fell running, Harry Coates (Wallsend Harriers) finished first. He had led from the first field gate and despite a lonely journey finished almost five minutes ahead of NFR's Gary Jones. Bruce Crombie (Alnwick Harriers) was third to finish and first vet 40. Morpeth Harrier Ally MacDonald was first vet 50. It was Ally's fiftieth birthday and there was a family outing to celebrate. He had generously sponsored the presentation mugs for this year's race.
The first ladies to finish, Miriam Bennett and Alice Gover, ran the course together and planned to cross the line together only to be surprised by a last minute sprint from Matt Offer. It's the first time competitors have crossed the line laughing.
In a close run thing the team prizes went to NFR men; Gary Jones, Chris Winter and Stephen Minnikin, with twenty three points to Tyne Bridge Harriers twenty four points.
Many thanks once again to all who supported the race; North of Tyne SRT, Forest Enterprise, UPM Till Hill, Gareth and Jane Latcham at the Rose and Thistle, Alistair Mac Donald, Sue Mitchell, Ken Rawlinson and Pat Cooper.
Proceeds to North of Tyne SRT.
I hope to see you all at Windy Gyle on Sunday 23rd June. Start 10.30. Allow an extra twenty minutes to allow for the diversion to Rothbury and for travel up the valley.
Keith Cooper
Race Organiser
more photos from Keith