07/07/07
The 51st Chevy Chase
- from Old Cheviot (photos: Rob Stephens)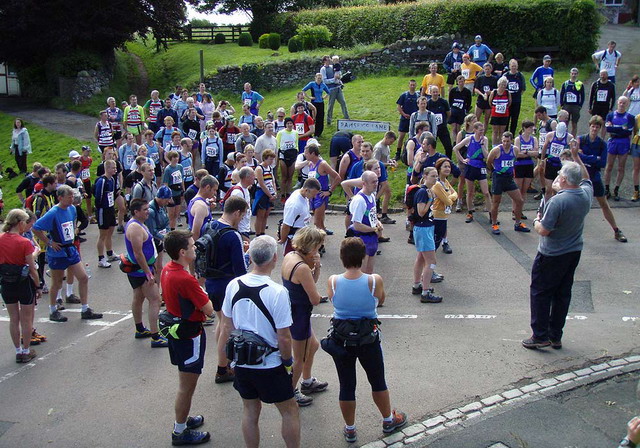 runners gather for a massed start
The first hour – runners gather for a massed start at Wooler at 10:30am. Steph Scott frets about what to wear. The fashion oracle John Dallinson argues against a T shirt, so Steph settles for a fetching purple and green vest. At the start, Gary Jones leads the charge; others follow at a more leisured pace. It's a long pull to Broadstruther against the wind. After all the recent rainfall, Cheviot is one boggy peat hag.
The second hour – Cheviot summit is reached and the runners head for Hedgehope. Gary Jones takes a circuitous route and is overtaken by David Kirkland of Alnwick Harriers. Geoff Davis is on hand at The Harthope Burn crossing offering support and encouragement. The bracken is high and not everyone finds the elusive sheep trod that unlocks the key to Hedgehope. Garry Owens is going well until cramp and the vagaries of the Langley Crags trods lead him astray.
The third hour – the runners reach the Carey Burn and find the wind is against them. Garry Owens has sneaked back into fourth place. David Atkinson turns on the power, and Old Cheviot does his best to follow. David Steel also tucks in behind until he feels the wrath of Hellpath and drops back.
The fourth hour - it's a long and winding road back over Wooler Common to the finish. But eventually the runners come home to applause from the finish marshals. Showers and sustenance revive the spirits at the hostel.
The fifth hour – Claire & Harry from Wooler Running Club present the prizes. David Kirkland has won the race in 3 hours 13 minutes, 5 minutes ahead of Gary Jones. Garry Owens is first V50 and David Atkinson first V40, so the team prize belongs to NFR. Ray Gray is first V60. In the ladies' race, NFR cleans up. Louise Wilkinson is first lady, Steph Scott second, Susan Davis third, and Sally Welsh claims the prize for V40. Every runner can wear their T shirt with pride. Many thanks to Wooler Running Club for another great Chevy Chase.
Old Cheviot