03/07/07
Saltwell Harriers Fell Race
- from Keith Wood (photos: Pat & Rob)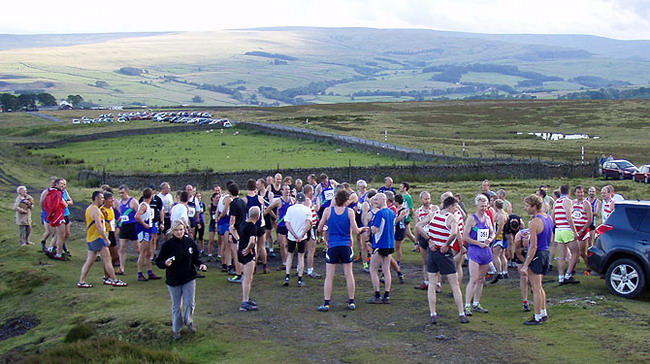 Record entry of 77 runners at this year's race (photo: Rob Stephens)
It was a night of records at the 12th Saltwell Harriers Fell Race. Record entry of 77 runners, Record prize list, the anticipated breaking of the men's course record by our friends from Borrowdale Fell Runners, which didn't materialise; though this can't be said of the ladies course record which did fall, thanks to an excellent run by Tynedale's Rachel Vincent who knocked 3 seconds off Karen Robertson's 1999 record. This was a great run by Rachel who mixed it with the region's cream of fell running finishing 15th overall and only just behind her husband Phil who will obviously need to train harder if he is to maintain top dog status in the Vincent household. Bingley's new recruit, Alison Raw, finished second in a creditable time despite recent injury.
It was very good to see the Borrowdale lads of Andrew Schofield and Jim Davies make the effort to travel over the Pennines to sample this excellent race. Their efforts were duly rewarded with 1st and 2nd place. Andrew decided to lead from the start and was still setting the pace after 3 miles. However, Jim took advantage as they both retrieved themselves from the depths of the stream where the control punch is strategically located and built up a lead that was increasing all the time on the steep climb to the finish.
The men's minor placings were fought over between Will Horsley and Phil Vincent and NFR's ageing Dave Armstrong and Saltwell's Fred Smith. Will comfortably beat Phil for third but didn't hang around to pick up his prize (shame on you Will) and Fred had to give way to his younger rival but picked up his first V50 award.
Back at the Moorcock pub, the best presentation of any sporting event in the world provided the post race entertainment where much merriment appeared to be in abundance. Jim Davies was presented with a horse after his winning acceptance speech and his team-mate Andrew gratefully accepted a pair of work gloves plus the obligatory brown envelope, even Roy Dawson in 55th position picked up a prize. Another successful night of Fell Running on the one day in July that was rain free!
Keith Wood