02/03/08
Grey's Pike Fell Race
- from Dave Hicklenton (photos: Rob)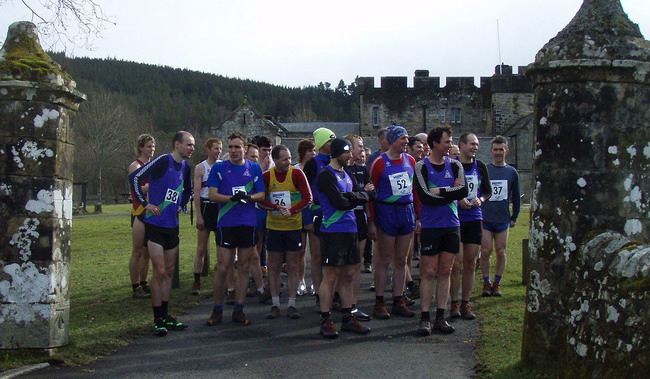 chilly runners eager to get going
The fell races starting at Kielder must be the most remote in England. From the ramparts of Kielder castle it is 45 miles to anywhere bigger than a village, the nearest major road is over ten miles away in any direction and you can fit the whole of the Lake District quite easily into the wilderness that is the Northumberland National Park. Amazingly it is a centre for mountain biking, walking, sailing and more and there is a fine café with excellent bacon butties. It's great.
In a nutshell: Ground a bit claggy underfoot in parts but weather overall very good with bright sunshine at start after slight frost in the night. The predicted strong winds held off for most of the race and it stayed warm enough for Gary Jones to round the summit cairn clad only in shorts. There was drizzle part way through and it fell as horizontal sleet on the top for a short while where Phil was marshalling. At my station, half-way down it was just cold and wet. We were sharing the hills with around 100 scouts according to a chap I met when flagging the course and they were using orienteering markers with cute wooden animal shapes attached. There was also a plethora of other markers in the woods close to, and on, our route including small red flags and yellow and black tape. We managed to avoid much confusion by moving some of them, so no one was thrown off course. (Although it might have played havoc with some future off-roaders convention of course). One of the great things about the Grey's Pike race is that it is only 5 miles and there are maps available yet someone has gone off-route every year of its running (ok so it's only been on the calendar for three years, but still). This year, despite the metres of tape, Phil at the top, Will's initial instructions and my arm-waving en route, some people still veered off the track with only about half a mile to go. They soon realised their error, but it all adds to the fun.
The Southern raider from Pudsey and Bramley looked a class act from the start and duly romped home in a much faster time than Joe Blackett's last year. Steve Birkinshaw swapped places with Phil Sanderson on the descent but otherwise, apart from a few minor changes in the order, it was the same order of numbers after a mile on the way up as at the finish. A bit like a Grand Prix. Except for the mud. And slower.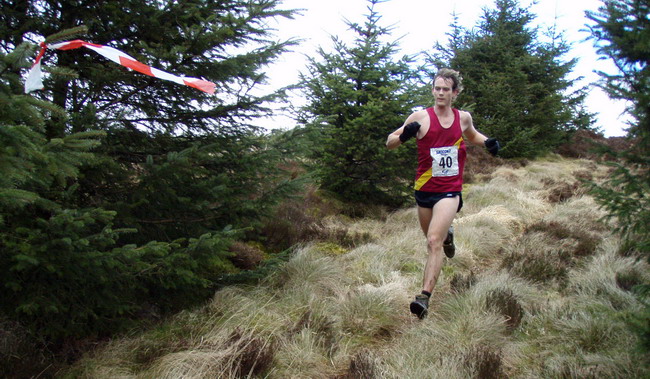 Ian Nixon (Pudsey & Bramley) takes the lead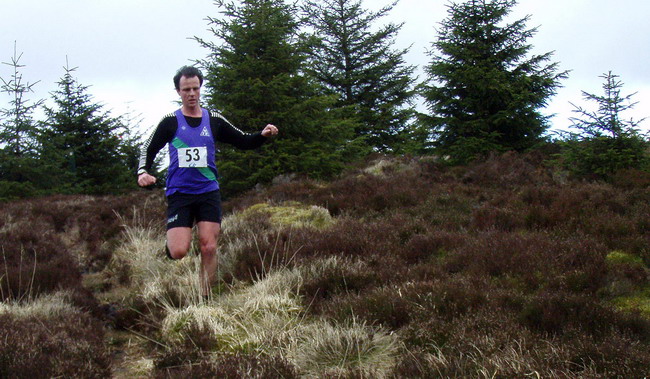 Steve Birkinshaw also breaks last year's winning time to arrive in 2nd place
The times actually were very good; overall it was a really good field. We had two Teviotdale 17 year olds who showed most of the NFR boys a clean pair of heels, a KIMM elite winner in Steve, who also broke last years winning time, and some fast times in the front end. Sadly only two ladies started out of the thirty runners, but it was Mother's Day and I guess most Northumberland Mums hadn't picked running up a remote hillside near Kielder as their Sunday treat. Back at the castle it was tea and cake all round and Easter eggs were distributed along with bottles of wine to the winners. The marshalls were thawed out, the stuffed squirrels were put back on the shelf and we all set off on the hour long trek back to civilisation.
Dave Hicklenton
Also from Dave, a more poetic report entitled Crow and the Grey Spike
results | photos from Rob Stephens | photos from David Coxon