08/05/11
Cheviot Summit Fell Race
- from Rob Stephens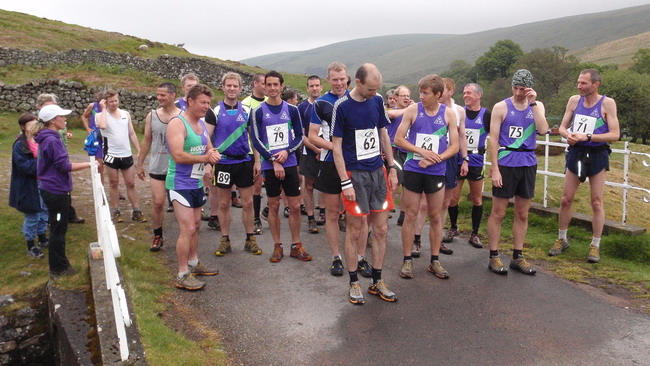 a small but perfectly formed group of runners - photo:Rob
After such a long dry spell of unforgivingly hard ground (the blight of many a fell runner's ankle), it was wonderful to have a decent dose of rain to soften things up a bit. Clouds were low, and visibilty poor at times (and that was just the driving!), but the sunshine eventually fought back ... only to be hit back by more rain - a weather pattern which continued throughout the day!
It was good to see some new faces in NFR vests alongside some of the regular friendly Northumberland hill-running bunch - although it has to be said there was a noticeably low turnout of runners at this one. No shortage of race helpers from the good folk of Wooler though, along with the Northumberland National Park MRT.
From the off, Phil was way ahead with Andy Kitchin (Lothian) and a fast young James Taylor (NFR) on his tail, the positions they remained in to the finish. There was quite a breeze high up - I had to hold onto my cap on numerous occasions and I gather that the afore-mentioned James, when asked his number at the summit, produced a scrumpled up race number from his clenched fist - no doubt a victim of the gusts! Released from the drag factor that a race number produces, James was later seen to be bombing down the hill.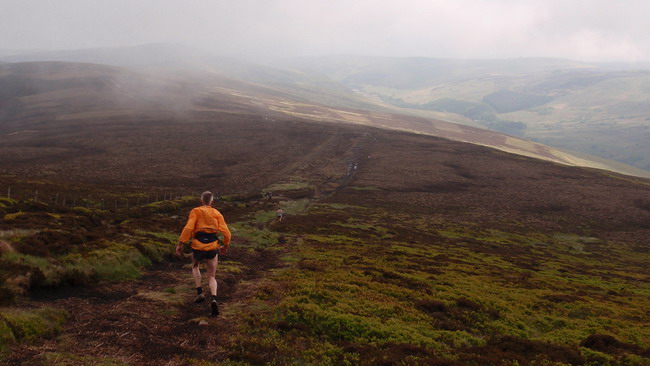 the run back down - photo: Rob
I'm sure Ruth would forgive us for being a little surprised to see her so high up the field on the way up - we later learnt that she had set off quite a bit earlier than the rest of us. I guess Ruth had got wind that a torrential downpour was due in, and sure enough some of the later runners got quite a soaking.
The softened peat underfoot made for a great run back although a little slippy in parts - Brian Robson would have had me at the finish if he hadn't spent what seemed an age trying to recover his balance after a slip on the last run in.
Phil managed to stay upright throughout and sprinted back to shave a good few seconds off the course record. It was a very close finish in the women's race with Kate Kitchin (also Lothian) just pipping Liz Grey to the post.
As usual though, there was lots of excellent running from others - clearly some have been practising - and there were plenty of mini-battles for position elsewhere! I have to mention that a certain Dave Wiseman ought by rights to be hobbling about slowly after his 53 mile Fling thing last week, but no, he seemed to be running faster than ever.
Many thanks to Glen (who managed to run in his own race this year) and all for putting on this exciting race up n' doon muckle Cheviot! Proceeds of the race went to NNPMRT.
Rob Stephens
photos from Karl Wait