20/08/11
Falstone Falcon Fell Race
- from Rob Stephens (+ photos)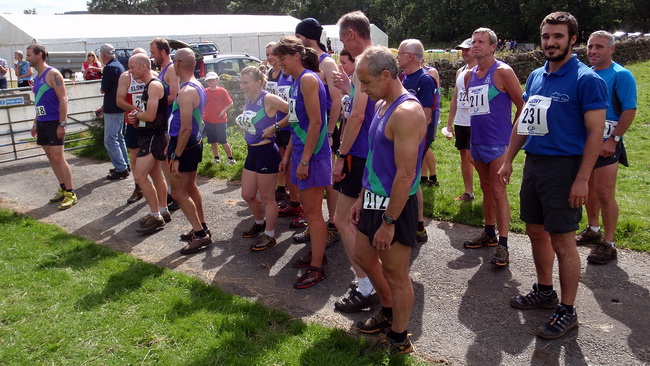 the line up is 65% NFR
A warm sunshine beats down over Falstone Show, it's hot weather for dogs. Perfect in fact above grass level, but following recent rains - which of course put an end to Simonside Fair this year completely - the soft buttery earth beneath proves no support for chair legs, petite feet, or spinning car wheels. Just as our vehicle was kindly extricated two years back with the help of fellow runners, this year it is Keith's turn. An able-looking tractor appears to be in demand elsewhere, but powered by - or perhaps high on - Steph's gummy dinosaurs, a group of us runners flex our muscles and have Keith moving again.
Not a huge turn-out of runners this year, but plenty enough for a good race. A few newer runners, as to be expected, but a little surprising that veteran and well-experienced fell runners Peter and Garry had yet to leave their stud marks on this course. Good to see that over a quarter of the runners were ladies, with Louise making a last minute decision to pop along. Followers of super-fast Superbike racing or perhaps a more sedate TV programme on boat restoration might have spotted a certain celebrity Guy cheering the race on ... by eck!
A blisteringly fast start to avoid the nettles bottleneck and Garry makes some jovial comment about deploying fast-twitch muscles. Phil Vincent opened a gap from the start, whilst Lee and the two Chris's tried to catch him. Thereafter followed the usual chain of springy-legged runners in the general order of, well, springiness.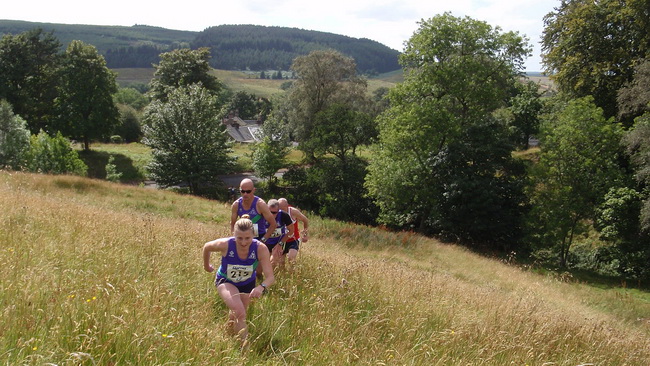 Steph pushes ahead
The course was as tough and gnarly in places as ever, but this year the vegetation was particularly thick and high - organiser Mike warned us to be extra vigilant with post-race tick-checking. But the longer grasses also made the running harder work and in places made it a little difficult to spot the marker tapes particularly in the last fields - where it transpires several alternative routes were taken!
Bernard's speeding along these days; as is Steph, especially when the running surface resembles road! But Sue, maintaining her pace over rough ground, gave Steph a good race.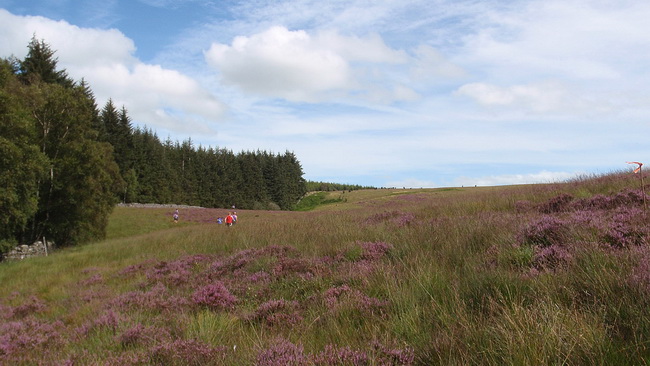 the scent of heather fills the air
Once back, tales of wrong turnings were a hot topic - even with folk who'd done the race before. A look down at the bumped knees, scratched, muddied and bloodied legs told their own tales. Great fun!
Phil Vincent won the men's with a very comfortable margin, and Sue picked up the prize for first lady.
It's a bit of a shame that most of Falstone Show is over by the time the fell race is done, but it's still good to get a bite/drink and have a bit of a natter afterwards.
Thanks to Mike and Fiona for the race once again, and to Bill for his help too.
Rob Stephens