Simonside Cairns Fell Race
12th December 2005
A great turnout once again at a local fell race. Nick Swinburn was first, continuing his relentless progress, closely followed by Tim Wylie who flies the flag for the younger veterans. The women's record was smashed by Angela Mudge (by around 5 minutes, I think) even in the muddy conditions, finishing in fifth position overall. I hope you noticed the decorated Christmas tree on the Simonside ridge. The last three miles of my run was a little painful while the air was turning blue but I was happy to finish, hearing a cry of "Zola Budd" on the run in.
Paul Jameson
---
FRA Relays: Alva
18th October 2005
Just a quick word on Sunday's relays. A great day was had by all. The A team finished in 12th position in the open race and the B team in 52nd. A big thanks to the three runners who stepped in at the last minute Lucy Donnelly, Jane Walker and Paul Meyer Reimer [ making his debut for NFR ]. Well done all!
David Atkinson
---
Langdale Horseshoe Fell Race

8th October 2005
"Does anybody know the way?" I asked of the runners in our group on Crinkle Crags. The deafening silence echoed round the Crinkles and was lost in the swirling mist. We made it over Shelter Crags somehow, but probably scored 'nil points' for our efforts at a traverse. We fared better at our traverse of the first 3 Crinkles, and made it to Long Top without too much faffing. Not being fully paid-up members of the school of rock-hard northern fell-running, Chris Little and I took the side-route around the bad step. If I had not fallen over, this would have been almost as a fast, if not faster.
The Langdale Horseshoe had started over 2 hours earlier at The Old Dungeon Ghyll Hotel. The early rain had cleared and the clouds were hovering around the tops. On the first climb to Thunacar Knot, I was following in the footsteps of Louise Wilkinson. Luckily I wasn't right behind her as we crossed Martcrag Moor, as she was one of several runners to disappear thigh-high into the bog.
The clouds were still high as we climbed past Angle Tarn and up to Esk Hause, and we could see the fit lads already making the slippy traverse of Esk Pike. The mist came down as we summited on Bow Fell, and didn't lift till after Crinkle Crags.
A better line around the last crinkle meant Chris & I were ahead of David Atkinson and Joe Blackett (Dark Peak) on the climb up Pike 0'Blisco. But dreams of glory evaporated as they swept us up on the descent. A final blast down from the cattle grid and through the campsite brought us to the welcome sight of the finish.
As I crossed the line, a young lady marshal gave me a baseball cap. I was too tired to ask why, and only later realised I had been given a spot-prize. The cap is not the height of fashion (even when I've now cut the label off), but as my only ever prize from a fell-race, I shall wear it with pride.
Jerry Sharp brought NFR home, and was followed by David Atkinson and Chris Little. Louise Wilkinson was first NFR lady, and Jane Grundy (paced by husband Lewis) second. Paul Appleby and Scott Archbold also completed the race.
The Langdale Horseshoe - the race you've got to come back for. 14 miles, 4,000 ft of climbing, and several elusive traverses.
Full results at SportIdent.
John Duff
---
Ian Hodgson Mountain Relay 2005

2nd October 2005
A brilliant team effort sees Northumberland Fell Runners competing at the highest level amongst the indigenous clubs finishing in fifteenth place.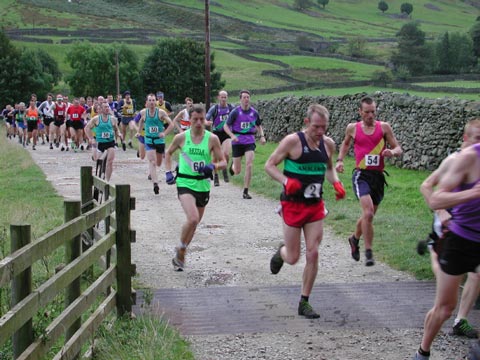 This year the Club entered its strongest ever team, in the 20th Anniversary running of what is one of the highest quality and most enjoyable events in the fell running year.
Starting and finishing at Brotherswater, the route takes a clockwise circle heading north to Patterdale and then back south to Kirkstone Pass.
The weather was dry and clear throughout (for once!) and ideal for running, as 70 teams of 8 gathered in anticipation at Sykeside campsite.
After much deliberation and rethinking of rethinks in the days leading up to the event, as to who should pair with who and which leg each pair should do, the final line up was:-
Leg 1: (8.5 miles, 2,800 feet) Mike Jeffrey & David Steel
Leg 2: (4.5 miles, 1,450 feet) David Atkinson & David Armstrong
Leg 3: (7.5 miles, 2,600 feet) Morgan Donnelly & Charlie Stead
Leg 4: (4.5 miles, 2,000 feet) Steve Birkinshaw & Nick Swinburn
The first leg ascends to Dove Crag, crosses Fairfield, Cofa Pike and St Sunday Crag and finishes with a steep descent onto the playing fields at Patterdale. Mike and David came home in 1 hour 21 minutes in a very creditable 26th position.
Leg 2 is very runnable, ascending the east side of the valley up to Angle Tarn and then ending with a vicious descent into the Hartsop valley, where the handover to Leg 3 occurs. David Atkinson put in a tremendous performance after 3 weeks of total inactivity with a nasty ankle injury, and suffering from a lingering cold. We ended the leg in an improved 23rd position in a time of 44 mins 50 secs.
We took great heart at this point as we realised that Ian Holmes and Andy Peace were standing waiting to set off. Half way through and we were two places ahead of the mighty Bingley Harriers!
Our final two pairs were expected to produce the strongest performances, and we had high hopes of our position improving noticeably from this point. Leg 3 ascends from Hartsop to The Knott, onto High Street, across Caudale Moor, along Ravens Edge and down to the Kirkstone Inn. Morgz and Charlie didn't disappoint, and turned in the 10th fastest time of the day, 1 hr 11 mins 31 secs, which lifted us up 7 places to 16th position.
The higher up the field you are the harder it is to make up places, but we were quietly confident that Steve and Nick could do it. They turned in an incredible performance to finish in 53 mins 35 secs; the third fastest leg time of the day, with the only two faster times being by the teams that ended up in 1st and 2nd places. This lifted us to a very pleasing 15th position at the end; the Club's highest ever finishing position by quite a distance.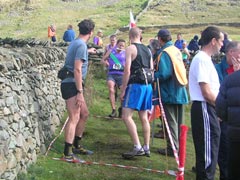 But were we still ahead of Bingley? Sadly not, as Holmes & Peace had turned in the fastest leg time of the day to lift them up 12 places and ultimately help them to 12th place. The event was won for the 10th time by Borrowdale, with Dark Peak 2nd and Ambleside 3rd.
results at SportIdent
David Armstrong
---
Force Ten (Phoenix) Long 'O'
22nd August 2005
In the Force Ten (Phoenix) Long O(rienteering) event in the Cheviots over two days this weekend Steve Birkenshaw came second in the A class, David Steel of Morpeth Harriers came first in the B class and Jeff Ross came first in the C class. Pippa Whitehouse who has been seen at fell races in North Yorkshire was second overall and first woman in the B class. Other fell runners included Raymond Gray, Patrick Bonnet of DFR and myself. This is a challenging event for fell runners with good navigational skills or for those in need of improving those skills as following other competitors is not an option. Brilliant sunshine made navigation easier but care was required in avoiding dehydration. As with many orienteering competitions and some fell races electronic timing using "dibbers" was employed which allows a fast results service with analysis of split times, gives a quick method of checking who is still out and limits the need for manned checkpoints.
Paul Jameson
---
Borrowdale 2005
9th August 2005
Saturday's Borrowdale saw 5 NFR members among the 353 finishers who experienced fairly ideal weather conditions during the race - although it might have been a bit hot. They were led home by David Atkinson in 72nd place completing in 3 hours 48 minutes followed by Garry Owens 82nd in 3h 51m, Louise Wilkinson 135th in 4h 10m (6th woman - well done!), Chris Little 157th in 4h 16m, Paul Appleby 199th in 4h 30m.
Geoff Davis
---
Kielder Borderer
7th August 2005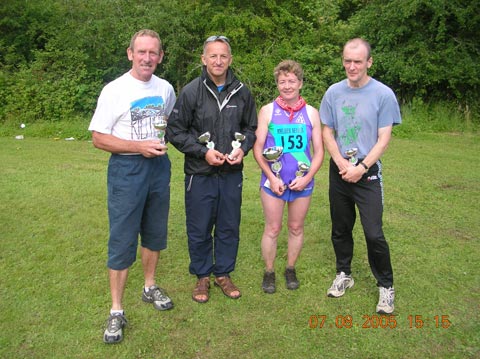 The record in the Kielder Borderer was broken yesterday by Adam Breaks from Calder Valley in a time of 2 hours 48 minutes with the help of the second place runner, Jeff Ross who kindly helped him with one or two navigational problems. Look out for Adam in the future, particularly in the longer fell races. This race has taken place 20 times. However like other races in Northumberland it is under threat because of low turnout while bills still have to be paid. On the other hand races in North Yorkshire are quite successful. Should we be looking beyond individual races for an explanation?
Congratulations to the Club prize winners at the Kielder Borderer. They are, left to right, Ray Gray 1st V60, Jeff Ross 2nd overall and 1st V40, Susan Davis 1st lady and 1st LV40, and John Humble 1st V50.
Paul Jameson
---
Saltwell Harriers Fell Race
5th July 2005
Vets don't always win Fell Races! It was a delight and a breath of fresh air to see seventeen year old Nick Swinburn take the glory in the 10th running of the Saltwell Harriers Fell Race. Nick of Northumberland Fell Runners, battled with another non-vet for most of the race after leaving Fred Smith, the inaugural winner of this race in 1985, in their wake as they descended from the mist shrouding Collier Law. This race is a fast and unforgiving circuit over very rough ground, providing little time for relaxation, so it was to the credit of both Nick and 2nd placed Peter Brittleton that they maintained their lead over the experienced Smith and the other chasing Vets of Maynard, Wood and Kelly. John Humble, a regular competitor for the last ten years, made it a brace of V50 victories in a week following his success at the Chevy Chase on Saturday.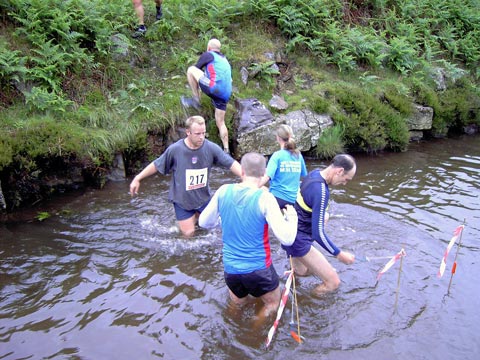 In the ladies race, course record holder Karen Robertson produced another fantastic performance finishing 11th overall. Second and 3rd placed Louise Wilkinson and Alison Raw still managed to beat two thirds of the field to finish 16th and 23rd overall respectively.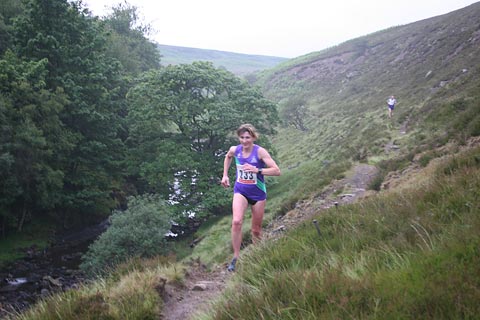 Though this race is competitive and some would say extremely challenging due to the placement of the punches located in the stream, the main reason runners travel great distances to attend this event is allegedly for the presentation in the Moorcock Pub afterwards, and suffice to say, this year, competitors were not disappointed, with all sixty finishers receiving a prize. These prizes were accompanied with mirth, laughter and banter instigated by the ever youthful master of ceremonies. Hecklers (and runners) Derek Crosdale and Ray (alias Roy) Dawson were awarded an additional prize on this 10th Anniversary for completing every Saltwell Harriers Fell Race. Ray, in particular, was able to improve on his previous performance following hip replacement surgery, which he had performed following last year's race.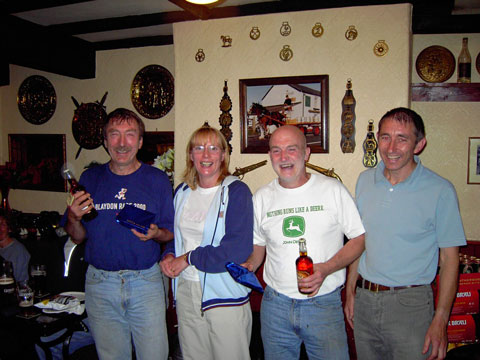 Another great night of Fell Running fellowship. Thanks to everyone from Saltwell who assisted in ensuring the Saltwell Harriers Fell Race remains an event not to be missed.
Saltwell Harriers fell race results
Keith Wood
---
The Chevy Chase
2nd July 2005
"Pick your feet up!" shouted John Dallinson from his spectator's vantage point near Carey Burn. I was trying, John (indeed Steve Walker had already told me on a couple of occasions) but they seemed to have a mind of their own by then. Things got worse at Hellpath where Paul Appleby passed me with a concerned "Are you alright?" - apparently I was as white as a sheet, though he thoughtfully didn't point it out at the time. I think it was that damned heat and humidity which made the Chevy Chase a bit of an epic today.
Those that survived will remember cloud and drizzle on Cheviot, a rough crossing to Hedgehope (top route tips available from John & Kath for a modest fee), and then sun and heat on the run back. Those that excelled in the harsh conditions were:
Men - Dave Atkinson (1st), Garry Owens (2nd), and Mike Jeffrey (3rd). John Humble was an impressive 1st V50 (I think), and Paul Appleby knocked 18 mins off his personal best. NFR won the team cup.
Ladies - Louise Wilkinson - first lady and 5th overall, beating Nicola Davies (Borrowdale), and knocking several mins off her personal best. Susan Davies - circa 2nd vet lady and spotted pacing Geoff round. Kath Dallinson - 1st V60 breaking 5 hours (I didn't ask whether John told her to pick her feet up).
Afterwards the tea and chat in the hostel was convivial as ever, and the beer in the Ryecroft Hotel VG. Thanks to Wooler Running Club for organising a great race. Pencil in the provisional date of 1 July 2006 for next year. It can't be as tough as this year - can it?
John Duff
---
Windy Gyle Fell Race
26th June 2005
Thirty eight runners took part in the fifth running of the Windy Gyle fell race. It was a glorious morning in upper Coquetdale as the runners set off through the hay meadows at Barrow Burn for the climb over grassy tracks to the summit of one of the highest hills in the Cheviots. Unusually the sun continued to shine for the whole race for a second year, possibly due to David Steel's presence.
Tim Edwards, a visiting Clayton Le Moors athlete, won the event convincingly in a time of 1:02:35. Although almost two minutes slower than Joe Blackett's record time of 1:00:40 set in 2004, Tim's time was five seconds inside the previous record time. Second man home and first vet 40 was James Dickinson (Tynedale) in 1:05:25. He was followed by Morpeth Harrier David Steel in 1:06:52.
First Lady Veronique Oldham put in a fine performance to finish seventh overall in a time of 1:10:58. This was only fourteen seconds outside Karen Robertson's record set last year.
John Humble, in his first victory since his return to running following a period of illness, was first Vet 50 in eleventh place in a time of 1:14:33. He was followed by Jim Knox (Teviotdale) 1:14:59. Although close behind John, Jim said he was never in any danger of catching him.
Only two Vet sixties entered the race. Ken Rawlinson finished twenty fifth in 1:29:17. Kath Dallinson finished thirty eighth in 1:46:48, but this was only because she slowed down to admire the view on the final descent to the valley.
Everyone was very complementary about the course which must be one of the most runnable hill routes in Northumberland.
The support from the North of Tyne Search and Rescue Team was once again most welcome. Their marshalling and communications from distant corners of the course to the start which is in a dead area is essential to the safe running of the event. Contributions from competitors raised thirty eight pounds for the team. They even saw a little action when they were called out to assist a mountain biker who had an accident lower down the valley.
Thanks also to those who helped at the start and to Ian Tait of Barrowburn for the use of his sheep pens.
Keith Cooper
Race Organiser
---
Beacon Hill Race
2nd June 2005
The third race in the NFR fell race championships had 56 runners. The conditions at the Beacon Hill fell race were settled, warm and overcast. It is a little gem of a fell race having a good mix of moorland, crag and forest running with some short difficult descents and ascents and a fast return along the Simonside ridge. The women's record was broken by Hannah Wooton when generally times were slower than last year. Possibly it was a little wetter underfoot or else it is age catching up. No such problems for Nick Swinburn who continues his impressive second season in fell races.
Paul Jameson
---
Gisborough Moors Fell Race

10th April 2005
NFR was respresented at The Spring Classic of North East Spring fell races, Gisborough Moors (12.5 miles, 2200ft), by regulars Philip and Charlie in the top ten, with support from George Adamson, Raymond Gray and, keen to endorse the second running of the NE Championships, Keith and Pat Cooper. Unfortunately NFR couldn't repeat its success of the previous year of winning both the Mens and Ladies teams, as many NFRers had prioritised the Allendale bog slog the day before.
Place
Number
Name
Club
Time
CatPos/ Points/ Running Total
Top 7 finishers
1
656
Chris Miller
Harrogate H
83.17
S1/50/98
2
632
Mike Fanning
Borrowdale FR
83.5
S2/48/48
3
253
Paul Lowe
NYM.AC
84.09
S3/46/246
4
406
Joe Blackett
NYM.AC
84.12
V1/50/300
5
219
Phil Addyman
N'land F.R.
87.27
S4/45/187
6
415
Paul Kelly
Darlington AC
89.19
V2/48/263
Other NFR finishers
7
223
Charles Stead
N'land F.R.
90.04
S5/44/288
97
28
George Adamson
N'land F.R.
120.18
VV19/30/3
110
528
Raymond Gray
N'land F.R.
123.03
VV27/22/94
126
538
Keith Cooper
N'land F.R.
129.11
VV35/14/44
152
130
Pat Cooper
N'land F.R.
143.21
FVVV4/45/91
163 runners finished this popular race, which enjoyed a high class field (Joe Blackett was top 25 in the recent Spelga British Championship round and 'only' came 4th on home ground, to give you some idea!) and ideal weather conditions - around 12C, light wind, slightly overcast and mainly dry underfoot.
The race set off very fast with Harrogate's Chris Miller leading from the start and NYMAC's new recruit "roadie wildcard", Nathaniel Williams causing some concern at the start as rumours of his recent 5 minute miling form at the Hartlepool Marine 5 mile race the previous weekend.
Across open moor, tracks, minor roads and trails the race wound its way to Roseberry Topping. At this point the leaders have around an hour in their legs and the steep and often windswept ramps of Roseberry Topping and Little Roseberry can have a decisive effect on those not holding back a sufficient amount of "gas in the tank".
The final boggy run in from Roseberry across the moors still leaves the race-weary with ample opportunity for a decent mud bath, but once the woods are reached it's pretty much down hill all the way to the finish.
As with all Dave Parry's races the organisation is superb and the ambience friendly. This year the Moors had the extra bonus of a rather fetching blue memento t-shirt. After race presentation was in the salubrious surroundings (well, relatively speaking for fell races) of Guisborough Rugby Club.
It's worth remembering for NFR members that many of Dave's races are within 60 miles of Newcastle and with good roads like the A19 you can normally get there within the hour - strangely, we tend to think of Kielder Castle as closer, but it's a slow 60 miles that takes a good hour and a quarter - only if you live in Newcastle (Ed)
Finally, please be aware of the following note concerning BUTTERMERE SAILBECK from the FRA site:
Buttermere Sailbeck
This received from Jack King - Sailbeck Race organiser
Entries to the Sailbeck on 8th May 2005 are not yet full, contrary to rumours circulating in Ireland at the weekend. Further there will be NO ENTRY ON THE DAY and no late entries. Closing date entries received on 30th April 2005.
Anyone travelling to the race via Honister or Newlands passes should allow extra time as the Fred Whitton Cycle Challenge is held that day. The cycle route goes down Borrowdale over Honister and up over Newlands to Braithwaite.
Phil Addyman
---
Allendale Challenge
April 2005
25 miles, peat bogs galore, a good hour of snow on the tops, and a last soul-destroying 3 miles into a strong wind: the Allendale Challenge had something for everyone. Amongst the mist, snow, and peat hags on Killhope Law, there was a definite "I was there" feel to the race.
About 15 NFR runners lined up amongst 50 runners for the first championship race of the year. Paul Jameson and Karen Robertson proved they were 'nails', wearing shorts whilst most others opted for longs. Susan Davis was also flying the flag alongside Karen for NFR ladies.
The initial climb to the chimneys was taken at a relaxed pace, for which the field was no doubt grateful when they hit the bogs on Hard Rigg. Here Morgan Donnelly came past having started 10 minutes late, and proceeded to lead the field home. The snow started in earnest on Hesleywell Moor and continued all the way to Allenheads Smelt Mill. Paul Jameson reports that he only psyched himself out of the tea tent at Black Hill by donning full bodycover. The long drag up to Ladle Well was very long, and the run in past Stobbs Cross seemed to go on forever. The finish at the Village Hall was very welcome.
Mike Jeffrey was first V40. Chris Little just pipped Geoff Davis who was first V45. Karen Robertson was first NFR lady and first lady overall (I think).
Afterwards the pie and peas and tea in the Golden Lion hit the spot and were most convivial. See you at Buttermere.
John Duff
Allendale Challenge - Addendum
Modesty prevented John from including the fact that he had an excellent run, finishing in fourth place overall and second NFR.
Well done also to everyone who took part in what is a very challenging race in good conditions but, in Saturday's snow and strong winds, was an epic.
I would like to say a particular "well done" to John Humble on another brave and creditable "come back" performance and to Susan on completing her first Allendale. She was one of only two women runners in the race. (Karen was the other one, as mentioned above.)
Geoff Davis
---
Brough Law Fell Race
26th March 2005
The Brough Law fell race attracted 54 runners despite the rival attraction of the North Tyneside 10k race. Visibility was poor at the start of the race but it gradually worsened during the race, indicated by the photographic evidence, ensuring that the later finishers had slightly more than a physical challenge. A large proportion went on a detour in the mist searching for tapes marking the route. N Swinburn, a young Morpeth Harrier, won in an impressive time of 37:54, more than 3 minutes ahead of T Edward. The first woman was S Mitchell of Calder Valley in 46:33.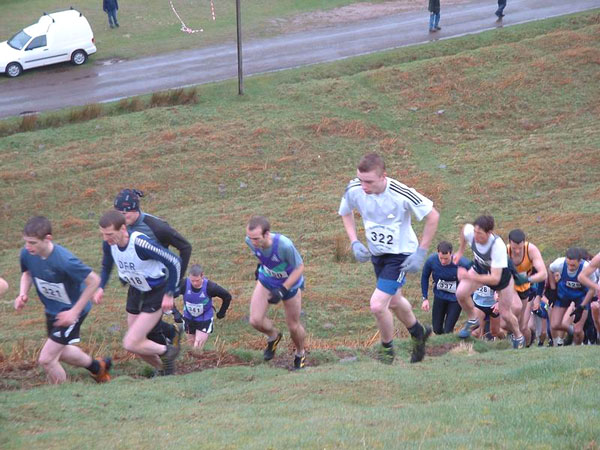 Paul Jameson
---
Fiendsdale Fell Race
19th March 2005
On 19 March an intrepid group of fell runners including John Humble, Karen Robertson, David Armstrong and Philip Addyman travelled to Lancashire for the Fiendsdale Fell Race, the first English Championship race of 2005 with a large field of 412 finishers. It will be good grounding for success in local races. The results are now available. I notice that runners must have used SportIdent dibbers, surely the way forward for all races reducing the need for marshalls and automating the results service.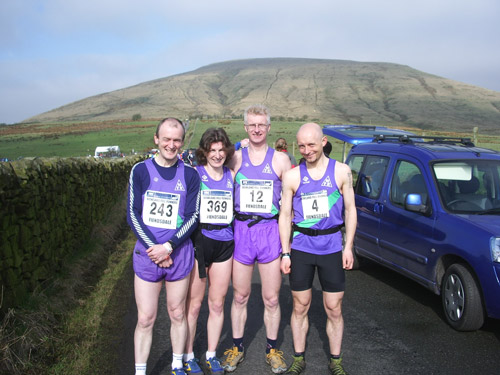 | | | | | |
| --- | --- | --- | --- | --- |
| Position | Name | Club | Category | Time |
| 51 | Philip Addyman | Northumberland F R | M | 01:27:56 |
| 121 | David Armstrong | Northumberland F R | M40 | 01:36:35 |
| 271 | Karen Robertson | Northumberland F R | L | 01:54:54 |
| 322 | John Humble | Northumberland F R | M50 | 02:04:24 |
Paul Jameson
---
Carnethy 5 Hill Race
12th February 2005
Northumberland Fell Runners were well represented at what seems to be the traditional early season race for the more committed runners. Philip Addyman was the first Northumberland Fell Runner in twenty eighth place after finishing fortieth last year.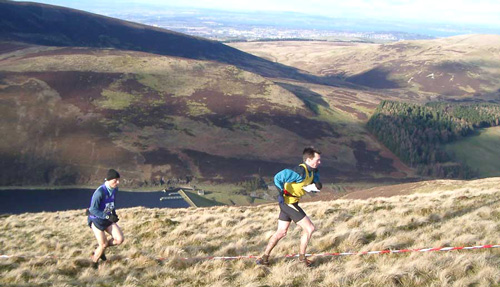 He was pleased with this improvement. The winter training weekends must be helping as long as not too much drink is consumed.
Men's Teams
The NFR team was eleventh out of 24 Men's teams (tenth out of 22 last year!)
| | | |
| --- | --- | --- |
| 1 | Carnethy HRC (6,11,16,27) | 60 |
| 2 | Shettleston Harriers (8,14,19,57) | 98 |
| 3 | Westerlands CCC (22,23,36,53) | 134 |
| 4 | Lothian Running Club (29,33,52,63) | 177 |
| 5 | Cosmic Hill Bashers (20,42,65,77) | 204 |
| 6 | Ambleside AC (5,46,80,113) | 244 |
| 7 | Helm Hill Runners (12,39,103,116) | 270 |
| 8 | Lochaber AC (15,37,98,133) | 283 |
| 9 | Edinburgh Univ H & H (1,75,111,122) | 309 |
| 10 | Hunters Bog Trotters (13,88,109,114) | 324 |
| 11 | Northumberland Fell Runners (28,51,97,174) | 350 |
| 12 | Deeside Runners (25,31,130,221) | 407 |
| 13 | Fife AC (85,89,127,137) | 438 |
| 14 | Carnegie Harriers (58,59,150,209) | 476 |
| 15 | Portobello (106,120,136,162) | 524 |
| 16 | Kendal AC (16,62,194,254) | 536 |
| 17 | Dundee HH (71,115,182,184) | 552 |
| 18 | Annan & District (49,56,234,246) | 585 |
| 19 | Saddleworth Runners (67,126,129,286) | 608 |
| 20 | Kilmarnock H (90,172,244,261) | 767 |
| 21 | Dumfries Running Club (64,155,231,381) | 831 |
| 22 | Lomond Hill Runners (96,236,267,284) | 883 |
| 23 | Penicuik Harriers (41,148,382,400) | 971 |
| 24 | Irvine AC (233,295,314,415) | 1257 |
full Carnethy 5 Hill Race results
Paul Jameson
---
Hill Forts and Headaches
11th January 2005
It seems a long time since the Hillforts and Headaches race at Rothbury on New Year's Day. The weather was kind to the runners. The results show that there is still life in the seniors who took the first four places while two youngsters have posted a warning to all of us. N Armitage of Pudsey was the first to reach the top, only one second ahead of S Pigford of Chester le Street. The first female runner was A Porteous,who is only 16 years old, of Morpeth Harriers. M Robertson, a junior, had a significant run. Completing an uphill race shows a determination to be admired. I recently had some correspondence concerning fell running for juniors. How can we encourage junior fell running?
Hill Forts and Headaches results
Paul Jameson