22/05/13

Yetholm Hill Race, 2nd June: a reminder that entry to this year's race, which is a British Championship 2013 counter, is pre-entry only, and that entry will close on Wed 29th May at 23.59 pm. Also, full kit will be required and CHECKED. Race details and link to entry at http://www.norhamrc.co.uk.
---

from last year's race - Rob
22/05/13 Humbleton Fell Race recce, Thursday May 30th:
Here are the arrangements for meeting up from Dexter
---
19/05/13 Bob Graham Round: "John Telfer put in an heroic attempt at the BGR on Saturday. Starting at 7am going anti clockwise John got round in a little over 25 hours in extremely testing conditions. The clag was down low for virtually the whole time with persistent heavy rain on Legs 1 and 2 and the odd shower on Legs 3, 4, and 5. All the navigators did a fantastic job finding the route and John's family proved to be tremendous road crew. I think I can speak for everyone involved that it was a pleasure being in the company of someone who is a credit to NFR.
Well done John." - Paul Appleby
---
16/05/13

Stuc a' Chroin: a report from Andy Russell
---
15/05/13

Fairfield Horseshoe: Dave Johnson writes "Six members took part in this English Championship counter. Chris Sanderson was.first home in, I think 125th place (out of 400 starters), in a very strong field. Next was me followed by Steph Scott, Chris Haswell, Jane Heatherington and Andy Russell." photos by Andy Russell
---
15/05/13

Roman Wall Show Race, 15th June, 12:00: flyer from David Hunter
---
13/05/13

Slieve Donard Mountain Race: a report from John Tollitt (on Tyne Bridge Harriers website)
---
13/05/13

63 @ 63: Congratulations to Peter Moralee who successfully completed 63 peaks at 63!
---
09/05/13

NFR Championship: here are the scores after four races from Paul and John
---
07/05/13

Fox & Hounds Chase: Dexter reports on the fourth race in the NFR Championships
---
29/04/13

Highland Fling: well done to John Butters who completed the 53 mile ultra in 9hrs 22 mins. John's blog here
---

Will inspects the course
photo: David Gowans
24/04/13 Gisborough Moors: update with an interesting photo by David Gowans!
---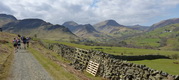 photo: Andy Russell
22/04/13 Anniversary Waltz:
---

back

front
22/04/13 NFR Hoodies: here are a couple of photos of the Hoodies from Steph. If you'd like to make an order, you can do so directly from the company using this order form.
---

photo: Andy Russell
15/04/13 Cheviot Summit: "It was only run as far as the 'Knee' due to high winds. Despite the warm conditions the thaw and rain meant it was pretty clarty under foot. An invigorating morning on the hill!" - Andy Russell.
---
15/04/13

Screel Hill Race: Dexter reports from this race in Dumfries and Galloway
---
14/04/13

Rivington Pike (30th March): Well done to Tom Cornthwaite who won the race! Read more on the Mud Sweat and Tears site here

(thanks to DJ for spotting this)
---
11/04/13

Dawn to Dusk: once again John Telfer takes on Joe's 42 mile challenge - here's his report

(pdf)
---
07/04/13 Some of the weekend's races:
---
02/04/13

Brough Law: apologies to John Butters whose blog report I have only just fished out of my spam folder! Sorry John, here's the report
---

photo: Andy Russell
31/03/13 Causey Pike: the second race in the NFR Champs was over a revised route.
---
28/03/13

Hardmoors 55: Four hardy NFRs tackled and completed this ultra run in tough conditions last weekend. John Telfer reports
---
19/03/13

Darren Holloway Memorial Race, 29th June: a Lakes race for Pennine Fell Runner Darren Holloway who died last year at the Ian Hodgson Relays. Details here. Some members might have known Darren from various Lakes races and also as 'Daz' from the FRA Forums.
---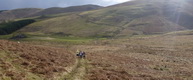 "bright, breezy and a wee bit chilly"
photo: Andy Russell
10/03/13 Brough Law:
---
05/03/13

NFR Hoodies: Steph has arranged with a local company to have a variety of sports/leisure wear embroidered with the NFR logo and the words 'Northumberland Fell Runners'. You may have seen samples and received an order form at the club dinner. If you fancy some of this, here's the order form for you to print out and order direct from the company.
---

Ray bounds ahead
photo : Andy Russell

eager contenders
photo: John Duff
04/03/13 Glaisdale Rigg: the first race in the NFR Championship series which sees Charlie Stead first in for NFR, followed in by Dexter, Steve Minnikin, John Tollitt and Chris Sanderson. NFR ladies were Steph and Lisa Taylor. A bit of a sore start to the series for race selector John Duff who had to hobble back after only a mile of running due to an awkward encounter with a hole!
---

icy climb
- G Bingham
27/02/13 High Cup Nick: Graham Bingham writes: "Five years I've missed this run through injury and other commitments, and the way the weather was on Saturday in the North East I thought it was going to be another year!
Pleasant surprise at Dufton - the conditions were ok. The run itself was a great run, it had a lot of ice on the last 2 meters of climb on the Gorge, at which point I had to lend a hand to a fellow runner on the climb up."
---
21/02/13

NFR Championships 2013: here are the races for this year chosen by our new race selectors John Duff and Paul Hainsworth.
---
19/02/13

Wadsworth Trog: John Telfer reports on a regular favourite.
---
19/02/13

Commondale Clart: Dave Johnson reports on a muddy day in the North York Moors where runners in front go awry.
---
17/02/13

Carnethy 5: "Congratulations to Susan Davis on completing her 21st running of the Carnethy 5 race yesterday getting a special mention on the Carnethy website report added to the fact that with husband Geoff (23 Carnethy 5's) they are the only married couple to have achieved this distinction!
Good runs also from John Tollitt and Karen Robertson in almost unseasonally pleasant weather considering it was blowing a blizzard last Tuesday!" - John Telfer
---

photo: John

14/02/13

Answer to Photo Competition: "Well done to Geoff Davis and Peter Whewell who both identified that the 2 NFRs were standing on Sail with Crag Hill in the background... > read more" - John
---

Charlie, 1st MV40
photo: Dave Aspin
05/02/13 Broughton Woods Hobble: "4 NFRS Will H, Charlie S, Marie Drozdowicz and Dave Beaumont took part in Sunday's Broughton Woods Wobble. Some good performances saw Will finish 3rd, Charlie 7th and 1st MV40 with Marie 1st FV50" - Dave Johnson.
---
04/02/13

Yetholm Hill Race, 2nd June

British Championship race

: enter Les Turnbull's classic race online this year with Sportident here
---

2005 race - Nick leads.
photo: K. Otto
23/01/13

Glendale Show Fell Race, 26th August: it's back! Absent from the calendar for a few years, this short race (4 miles or so) is back on. Bruce Crombie takes the helm, ably assisted by Glen and Harry from Wooler RC. Entry to the race is via entry to the show only (it's a big show ...), so there's an emphasis on coming to enjoy the show and enter the race while you're there! Watch this space for further info.
---
14/01/13

NEHRA / NECAA Championships 2013: here

(pdf)

is the selection for 2013 from Keith / Will
---
07/01/13

Clay Bank East: Phil Green's blog report here
---
03/01/13 Sponsored Mont Blanc Climb: an appeal from Jack McWilliams here (pdf)
update: Jack has now set up a JustGiving page here
---

New Year's run
- Andy
01/01/13 Hillforts and Headaches: "Another good turnout on a fine but blustery day - ideal for clearing the head and getting rid of the Christmas indulgences. NFR took both the mens and ladies team prizes with Lee Grant and Karen Robertson winning overall." - Paul
---
> 2012 news | news archive
---