Wasdale 2023 – Rob Salter
"Wordsworth once said that every fellrunner should do Wasdale at least once, or something like that!" (so says the Harvey map).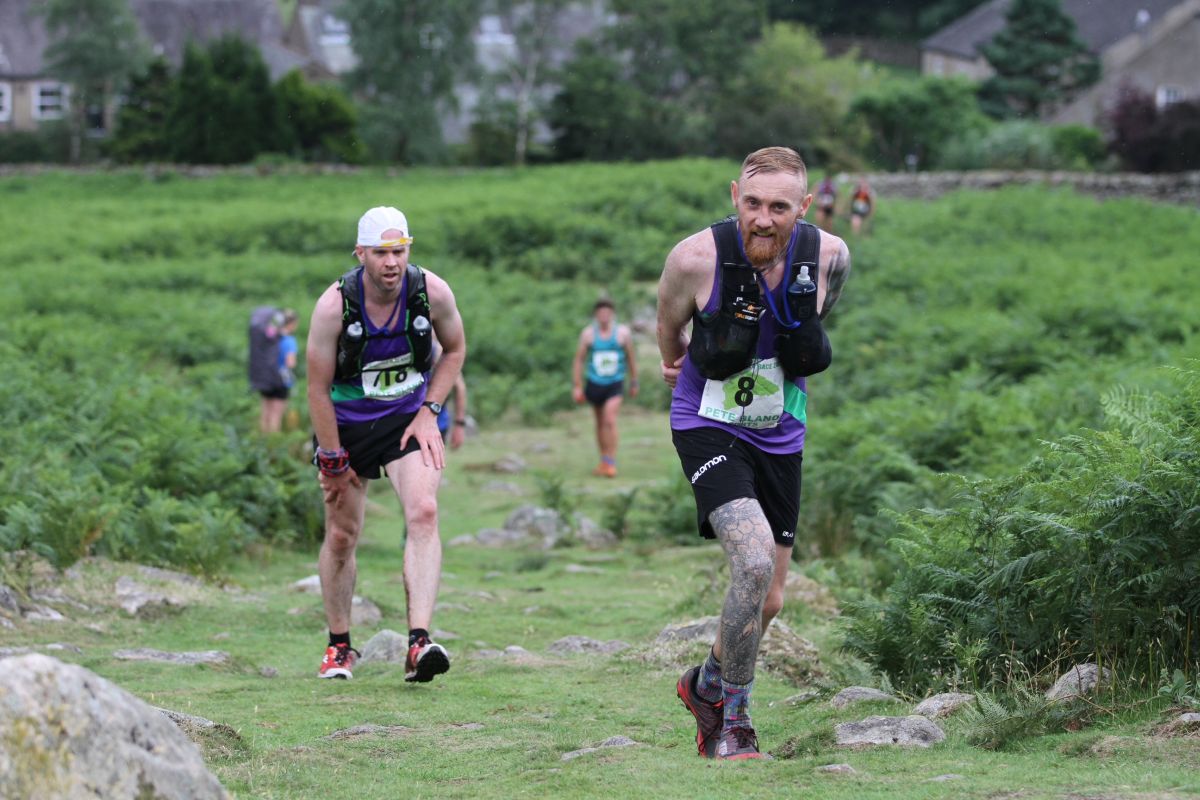 I'd originally planned to do Wasdale as a main race this year having first run it back in 2014. A couple of minor niggles hadn't stopped me from running but knocked out several long runs so I'd already come to the conclusion that I was going to skip the race because of a lack of specific training. Having helped on a leg 3 BG in May then run Great Lakes and Buttermere 'short' I'd given it some thought about using it as a hard training run even though that sounded a bit disrespectful. I sought the opinion of a few and decided I could probably do this if I went sensibly and avoided any temptation to race it. It was Adam (Malloy) who was also entered who also made the point that with Borrowdale planned, a place at the campsite booked it made sense to give it a go. I also fancied doing it just to experience the route again.
The forecast was grim, really grim at first. However race organiser Richard Eastman had sent out a race email saying the high winds were forecast to pass through earlier than expected and that he didn't think the forecast indicated a clear lightning risk and particularly for the marshalls on the tops. The race would go ahead but the marshalls on Pillar would make a decision as to whether the race was shortened and if they made that call they would drop down to windy gap to send us down Mosedale. In short we wouldn't know whether we were doing the full route until during the race which added some suspense.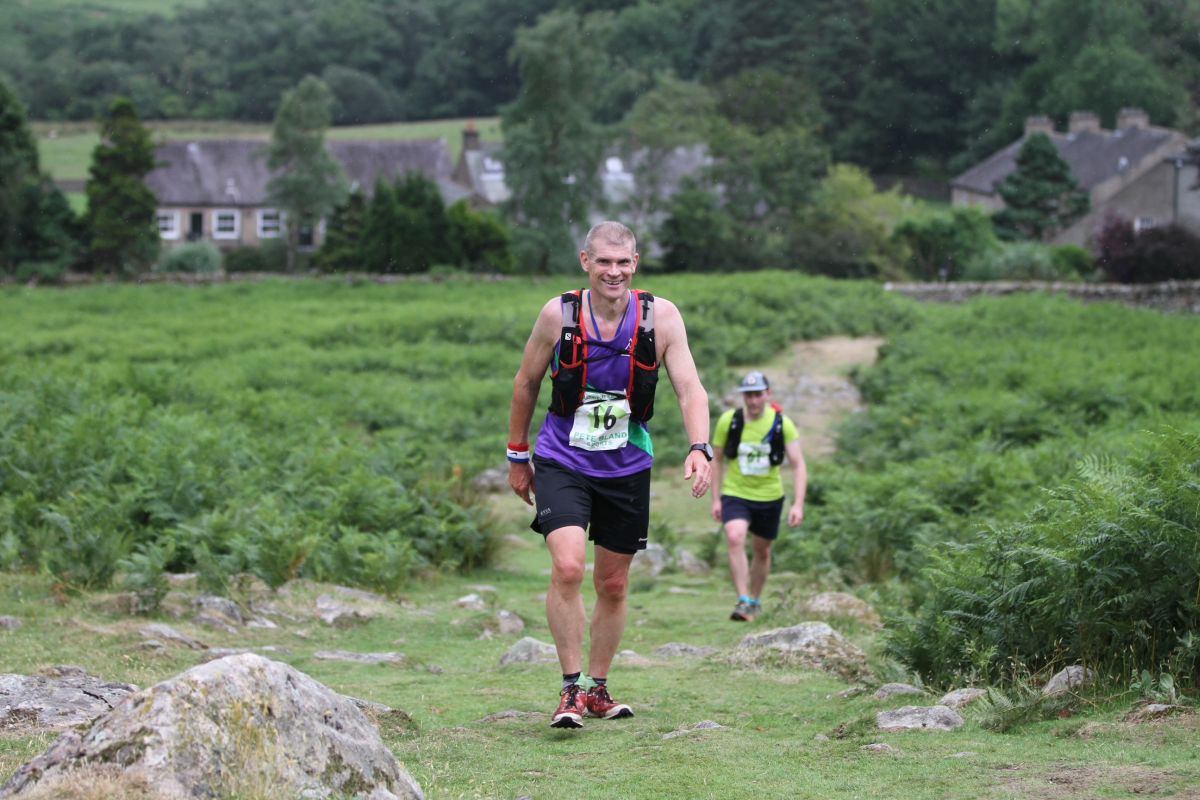 Wasdale is a monster, there's no getting away from it, 21 miles and 9000ft of climb means there's no fudging it. If you're undertrained or go out too hard it can end horribly. In 2014 I was in great running shape after a full xc season and had had some excellent results in AM races but I raced far too hard to Greendale and by Gable the wheels had come off lacking race sense and appropriate climb in the legs. A grim experience followed and a final descent included having to go sideways and backwards down Lingmell after a full bonk. So I'd definitely planned to with caution this time and had aimed for about 6-6.5hrs. Gary (Mason) was also there after already completing several of the Lakeland classics this summer as was Adam. I think the 3 of us from NFR have got used to seeing each other at the start this summer. When you stand at Brackenclose looking around at the route it is daunting with thoughts including "what state will I be by Gable at checkpoint 4" as you look to the left up the Wasdale valley. The great Findlay Wild had turned up with Brennan Townsend also running to give him a proper race at the front end. It was really muggy at the start and for the initial climb up Illgill Head Adam and I took it really easily and came inside Whin Rigg about 10 mins inside the cut off. The initial descent from Whin Rigg is really steep and technical and can knacker your quads early on if you push too hard. There then follows a long run through the valley to Greendale before the second major climb up Seatallan.
Seatallan is grim, it goes on forever and is a mix of bog and long grass which saps your energy. By the summit the temp was dropping but the clag was moving in and the section to Pillar is probably the hardest nav wise. I followed Adam and and another runner from the west lakes through the various trods towards the cut through ridge to Pillar. The clag was occasionally breaking and you could see across to Gable in the distance but feeling pretty sluggish I was feeling quite negative about my prospects. We arrived at Wind Gap, no marshalls, full route was on! The clag was now intermittently clearing on the summit. I decided to go with my legs and follow a group on the descent figuring Adam who'd raced the Chevy hard the week before would probably catch up anyway. We discussed during and after that in a race like this you kind of have to just go at your own pace really.
Along the path which skirts round Kirk fell and then starting the initial climb up towards Gable my legs starting feeling surprisingly good. Gable is a horribly hard climb from this direction and I had awful memories from 2014 but after another gel I was feeling pretty good. It goes on forever but finally you top out on gable summit and it was completely clear and we were inside the cut off by about 11 minutes. From here on I just had a great experience taking the route in, admiring the views, running the downs, power walking with a little light jogging where I could up to Esk Hause and then the familiar ridge run over to the Pike via the ridge which I know well. I ended up running with another runner from just below Broad Crag and on the final to Sca Fell Pike summit the predicted thunderstorm arrived with vengeance and we helped each other nav the section down from the summit to the Lingmell race route in full clag and downpour.
The final descent from Lingmell to the finish is ridiculously steep but I was able to run it relatively comfortably this time and make my way slowly down to the finish in the valley with the quads holding up. The prize giving had long since finished with Wild winning in 3.46 which is bonkers really. I came home in 66th in 6.13, Adam battling home on tired legs after the Chevy effort the week before in 6.50. Gary was sadly timed out but 42 people were either timed out or retired of the 129 who started and just under 200 had entered gives you an idea of the toughness of this race. In fairness Gary's ludicrously hard training efforts in the week leading into the race probably didn't help! 😂 A few (well more than a few) beers were had at the Wasdale Inn and then Sunday morning after camping Adam and I helped Richard clear up his tents at the race site. God knows the stress of organising an event like that and he's done it for 31 years and was there for Blands record in 1982 too. A classic race and an excellent weekend in the Lakes with friends.
Rob Salter
Photos courtesy of Peter Trainor who was at Greendale and the finish: