31/12/07

NFR Championships: final results here - thanks to Geoff Davis
---
30/12/07 Ayhope Skyline Christmas Trail Race: Yet again, NFR heads the field with Nick and Karen taking the honours!
---
30/12/07

Guisborough Woods: NFR heads the field: another win for Charlie and NFR newcomer Morag McDonnell takes the prize for first lady. Read more on NYMAC website (with results) and Northern Runner
---
23/12/07

NECAA / NEHRA 2007 Fell Running Champs final results: here - well done to all the category winners!
---
22/12/07

We Never Run Up There? - Phil Green looks back at his first year in fellrunning here
---
09/12/07 Simonside Cairns:
Record turnout. Cold, rainy and lots of glorious mud. Charlie and Rachel are first man and woman back to the warmth of the Newcastle Hotel in Rothbury.
---
02/12/07 The 14th Hexhamshire Hobble:
Puddles galore! Well done Charlie Stead, who makes a big splash, winning by over a minute. Meanwhile rain does little to dampen the hot contest between Karen and Rachel for first lady - only seconds in it ...
---
21/10/07 Saltergate Gallows:
---

14/10/07 FRA Relays:
"Well done to all, great effort in a highly competitive field" - Dave Atkinson
Mens Senior team: 13th 4.02.24 - Mens Vets: 53rd 4.42.34 - Ladies: 105th [21st ladies race] 5.37.01

full results on the Bowland Fellrunners website with a link to photos by Dave Pinnington
more photos of the event taken by John Leech
photos from David Armstrong
---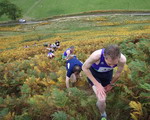 13/10/07 Alwinton Show Fell Race
---
07/10/07 Ian Hodgson Mountain Relay 2007 - well done NFR!
---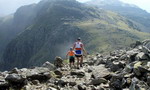 06/10/07 Langdale Horseshoe
---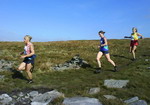 06/10/07 Great Whernside Fell Race
---
22/09/07 Two Breweries: superb race route, friendly with loads of cheery support and perfect weather to boot. Only one NFR, but the photos may inspire some of you or bring back memories for others.
---
18/09/07

Durham 2000ers Recce - short piece from Geoff Davis
---
16/09/07 And yet more NFRs in the hills this weekend ... The Three Shires Race!
---
15/09/07 NFR superstars elsewhere:
Well done to Nick Swinburn at the World Mountain Running Championship in Switzerland - article | full junior men results
Well done to Charlie Stead who wins the Peris Horseshoe Mountain Race - results | photo on Eryri Harriers website
... and not forgetting Will Horsley who wins the Top of The Forest Race at Hamsterley on Sunday - well done Will!
---
15/09/07 Simonside Fell Race: correction - winner is R. Anderson (Teviotdale)!
---
13/09/07 Well done x 2 to the man who's not only quick but also knows where he's going ... Steve Birkinshaw! And well done to the others too!
09/09/07 Lake District Mountain Trial results - Steve (5th place), Lewis and Jane, and Stewart.
05-11/08/07 Scottish Six Days Orienteering: Spey results - Steve (1st M35L), Stewart, Charlotte and Colin.
---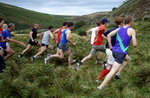 08/09/07 Ingram Show Hill race:
Nick Swinburn fits in another win in his NFR vest prior to swapping it for his England vest next weekend at the World Mountain Running Championships in Switzerland - all the best Nick!
---
01/09/07 Ben Nevis Race:
---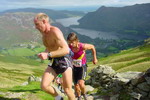 01/09/07 Grisedale Horseshoe: Tough but superb route. Steve Birkinshaw (10th place overall) leads 4 other NFRs: Will, Rob, Chris L and Bernard.
---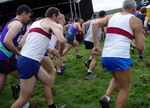 25/08/07 Bellingham Show Fell Race:
---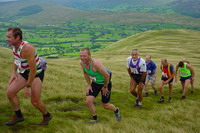 20/08/07 Sedbergh Hills:
---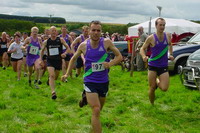 13/08/07 Forest Burn Fell Race: a great turnout of runners on a fine summer's day - a short and hairy race with a few tumbles!
---
08/08/07 Gribdale Gallop:
04/08/07

Powburn Show (race) cancelled: due to the UK-wide ban on the movement of livestock, following the discovery of Foot & Mouth at a farm in Surrey. Article in Northumberland Gazette.
---
30/07/07

Saltwell Harriers Fell Race results: thanks to Keith Wood: results | report
---
28/07/07

Roseberry Topping: Well done to Nick Swinburn on winning the race. Read about it on the NYM.AC website (great photos too).
---
21/07/07 Bob Graham Round account: If you enjoyed reading the shortened version of Jeff Ross's successful BGR in July 2006 (published in the Autumn 2006 Newsletter), you'll be pleased to know that you can now read the full version right here
---
18/07/07 NFR newsletters: full colour back issues for 2006 now available here
---
16/07/07 Kentmere Horseshoe:
---
11/07/07 Saunders Lakeland Mountain Marathon 2007
A few NFRs/Elvet Striders took part in last weekend's event between Ullswater and Haweswater. Multiple reports, together with photos and results on the busy Elvet Striders' website
---
07/07/07 The 51st Chevy Chase
A particularly good day at the races, thanks to Wooler Running Club, Wooler Youth Hostel and the many marshals and volunteers who helped make it a superb day.
---
04/07/07 Saltwell Harriers Fell Race
---
02/07/07 50 at 50: Geoff Davis
Here's Geoff's report - now with more photos
---
24/06/07 Windy Gyle
News in brief: "... A good time was had by all even though it was very wet underfoot.
Turn out of 53 - well up on last year. Race was won by Will Horsley who held off a late challenge on the road by Gary Jones, who was only a few seconds behind. Phil Vincent (Tynedale) was 3rd. Karen Robertson won the ladies, with Claire Bagness (Wooler) 2nd and Steph Scott 3rd ... "
- John Telfer (Keswick)
---
18/06/07 50 at 50: Geoff Davis
He did it!
Geoff Davis celebrated his 50th birthday by doing the 42 peaks of the Bob Graham Round plus 8 more peaks in 23 hrs and 35 minutes!
"... The first three legs of the round proved to be wonderfully enjoyable (apart from the cramp on Scafell) while the final two proved extremely tough ..." - Geoff
---
11/06/07 LAMM 2007
A handful of NFRs entered the Lowe Alpine Mountain Marathon at the weekend, with a tremendous performance from:
"... Francis Blunt and Aengus McCullough, who took second place on the 'A' course finishing only 21 seconds behind the winners in a time of 11:14:54 over the two days. They also got first sports company team for Northern Runner." - Colin Blackburn
full results | LAMM 2007 website with photos
---
09/06/07 Alwinton Fell Races
20 runners assembled for this race. Once again Will "where am I?" Horsley takes a wrong turn and only just scrapes a win. Here's his report.
results and report from Keith Cooper
---
07/06/07 Beacon Hill Fell Race
A good turnout for this cool evening race near Simonside. However, poor visibility meant that the early leaders lost their way and their places: here's Will Horsley's report.
---
07/06/07 Adventure Racing World Championships 2007: Scotland
- a gruelling 7 day, multi-discipline, non-stop adventure race, starting in Fort William. Team NAV+art consisting of NFRs David Atkinson, Louise Wilkinson and John Allen, together with Joe Faulkner were there. Steve Birkinshaw, part of Team Inov-8 GORE-TEX was also there. Here's Dave's account.
---
03/06/07 Chapel Fell Top Race
A small turnout of 17 runners (six of them NFRs) at the Chapel Fell Top race in Weardale today, which was a counter for the NECAA championship. Will Horsley won, just missing out on the course record.
"A nice little 4-miler straight up and down a 700+m high fell. A good time was had by all." - Will Horsley
---
03/06/07 Duddon Valley Fell Race 2007
A grand day out was had by more than 10 NFRs at the Duddon Valley Fell Race on Saturday. Here's a report from Old Cheviot.
---
01/06/07 Bob Graham Report: Paul Hainsworth
---
29/05/07 The Dodd Fell Race
Gary Jones and Bernard Kivlehan flew the flag for NFR at this Dales Show fell race. Here's Gary's report
now with some photos from Phil Mason (Harrogate AC)
---
29/05/07 Lake District 24hr Fell Record Trophy
Paul Hainsworth, clearly wondering how many more peaks he could have fitted in at the weekend, has re-submitted a short snippet about the 24hr Fell Record Trophy, which has seemingly not had the prominence it deserves at Brockhole Visitor Centre. Paul's article did appear in a past NFR newsletter but a full colour rendition of the Trophy photo is more fitting. Here's the article with photo.
---
29/05/07 Helvellyn Fell Race
Phil Green made his debut into Lakeland fell racing with this race at the weekend - perhaps a steep learning curve, definitely a steep descent! Here's his report.
---
28/05/07 Another NFR Bob Graham Round Success!
Paul Hainsworth was successful in his attempt on the BGR earlier this weekend. He completed the round in the very fast time of 21 hours 29 minutes.
"Having experienced near perfect conditions on the first three legs (cool, bright, dry & breezy) Paul was hit by hailstones and sleet (!) across Helvellyn where there was an inch of wet snow on the ground. Nonetheless, Paul battled on making up time on his schedule between almost every top and arrived with a sprint finish at the Moot Hall to the cheers of all.

Paul was supported by around 16 members of NFR both on the fells and at the road crossings. Some of us also helped Paul to celebrate with family and friends in the Sun Inn, Bassenthwaite, a few hours after the event, where he sank a thoroughly deserved pint of Sneck Lifter!"

- Geoff Davis
---
23/05/07 New NFR website and new webmaster!
The Northumberland Fell Runners website has undergone a complete re-design and features some new pages. Rob Stephens is now taking over the reins from Paul Jameson as webmaster.
You should find that the website still retains most of the original content collected over the years, but if I've missed anything, please let me know.
Please feel free to submit articles, news, reports, photos etc. which you think may be of interest, whether it's current material or historical.
Paul Jameson has promoted the activities of Northumberland Fell Runners for over six years (2001-2007) through his friendly and easy-to-read website. In the days before I joined NFR, I personally found the site immensely useful and it played no small part in my decision to join NFR. The club is indebted to you, Paul, for your time and all your hard work. I hope I can continue to promote the club via this website as well as you have done.
- Rob (May 2007)
---
19/05/07 Old County Tops
John Duff and Jerry Sharp took to the fells for this 37m/10,000' Lakeland classic. Here's John's report.
---
13/05/07 Bowness to Wylam - NFR's Dave Hicklenton, Phil James and Steph Scott took part in a long run at the weekend to raise awareness and money for Wylam First School's building project. They ran from Bowness-on-Solway (at 4.30 am) the length of Hadrian's Wall back to Wylam - a total of around 70 miles non-stop in about 15 and a half hours! - incredible!
Dave Hicklenton has written a piece entitled 'A Time to Think' on his thoughts (mostly about the pain!) on this feat of endurance.
---
13/05/07 Lordstones/Wainstones
"Charlie Stead came second after an epic battle with NYM's Robin Bergstrand. Only 1.5 minutes between them after a horrible climb up Green Hill to finish.
NFR managed a 4th in the team event (101 points) with Garry Owens finishing 10th in 68:21 and getting 2nd V50, Paul Appleby in at 80 mins and Phil Green at 83 mins.
Peter Reed was 1st V55 at 83:29 and came away with a nice box of beer!
Nice sunny day was had by all with lots of ups n downs, evil finish up Green Hill (lol!)"
- Phil Green
Full results and some great photos up on NYM.AC site
---
06/05/07 Kielder Borderer
Steve Birkinshaw shatters the course record by 4 minutes, with Gary Jones not far behind (who also beats the previous record). Close battle between Karen and Louise for first lady. 31 runners took to the challenge. Good times all round!
---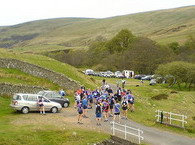 29/04/07 Cheviot Summit and Back
The new race from Glen McWilliams was hailed a great success.
Report from Old Cheviot with some photos
Alternative report from Dave Hicklenton
More photos on flickr: Pat Dunn | Rob Stephens
---
---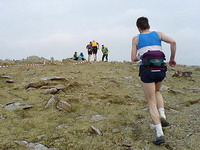 21/04/07 Anniversary Waltz 2007
---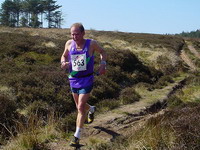 16/04/07 Gisborough Moors race
Another unseasonably hot day out at the races: well done to Charlie Stead (1st) and Karen Robertson (1st Lady).
---
14/04/07 Allendale Challenge
The hot and dry weather couldn't have been more different this year than for the last 2 years. Here's a report from Old Cheviot.
---
01/04/07 Kielder Weekend
NFR celebrated its 10th anniversary with a weekend at Kielder Youth Hostel - here's a report from John Duff
---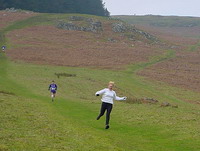 25/03/07 Brough Law 2007
The morning mist cleared to reveal a grand spring day at Brough Law (at least it did when the race had finished!)
---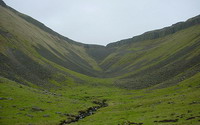 25/03/07 1st Dufton High Cup Nick Fell Race
A grand day out ...
---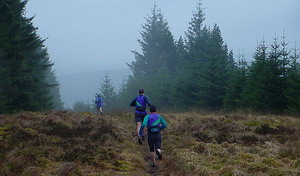 04/03/07 Grey's Pike 2007
Report and results on the Kielder Fell races website.
And also duplicated on this site:
report (Dave Hicklenton) and results



---
17/02/07 NFR at Carnethy
NFR finished as the first English men's team at yesterday's Carnethy 5 Hill race. Ten members ran the race, in a record field of 484 runners, on a mild spring-like day and finished as follows:
| | |
| --- | --- |
| name | time |
| Gary Jones | 65.38 (his first Carnethy) |
| Garry Owens | 66.20 |
| Geoff Davis | 67.55 |
| Paul Hainsworth | 71.11 |
| John Dallinson | 72.37 |
| Paul Appleby | 76.37 |
| Graham Wilkinson | 78.26 |
| Peter Reed | 79.11 |
| Susan Davis | 81.15 (a PB in her 15th Carnethy) |
| Stewart Jones | 83.42 (injured during the race) |
Well done everyone!
Full results

Geoff Davis