30/12/12 The Formation of NFR: following on from John Humble's 'My Kielder Experience ...', here are John's (unedited) memoirs on the Formation of NFR (1997 to 2005).
---
30/12/12

Guisborough Woods: Phil Green's blog report here
---
27/12/12 NFR Championships: * final scores * for the 2012 Championship here (pdf), thanks to Will / Dave. A big well done to category winners: Chris Rowe, Jill Bennett, Phil Green, Karen Robertson, Dave Wiseman, David Armstrong, Marie Drozdowicz, Dave Johnson, Peter Reed, Peter Whewell and Joe Garbarino.
---

photo: Graham Bingham
09/12/12 Simonside Cairns Fell Race: "The 17th running of this popular race took place in lovely weather although the route kept off the slabs and steps on top of Simonside due to the icy conditions, making it about 0.5 miles shorter.
Tyne Bridge had a strong team out but were just pipped for the men's team prize by NFR's Louis Goffe, Mark Clarkson and Phil Green who also clinched the NFR's Vet 40 championship." - Paul
---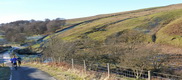 cool running
- Andy Russell
02/12/12 Angus Tait Memorial Hexhamshire Hobble:
---

photo: Andy Russell
19/11/12 Tour of Pendle: a few NFRs headed off to Pendle Hill on Saturday
---
13/11/12

Copeland Chase: here's Frank Shillitoe's report from this West Cumbrian orienteering event
---
12/11/12

NEHRA / NECAA Championship: final scores here

(pdf)

"The 2012 NECAA & NEHRA championships had a familiar ring to them with Phil Sanderson taking gold in the men's competition for the fourth straight year, a new record number of wins and one which will surely take some beating. The evergreen Karen Robertson once again showed her class and took another gold in the women's competition - taking her total number of wins beyond the record books ... > more" - Keith and Will
---
31/10/12

Guisborough Three Tops: Phil Green's report on his blog spot here
---

The Howgills
- John
29/10/12 The OMM: a few NFRs headed for the Howgills for this year's event.
---
26/10/12

Dates for your diary: NFR AGM, Thurs 24th Jan 2013, Wylam

(more details to follow)

and NFR ANNUAL DINNER and PRESENTATION NIGHT - Thurs 21st Feb 2013, Marco Polo's, Newcastle > more info
---
16/10/12

Man or Mouse: a few NFRs headed up to the Borders for the Manor Water Hill Race and Pentland Skyline double - here's a report from John Duff
---
15/10/12

Levisham Saltergate: blog report from Phil Green here
---

low cloud
- Andy Russell
14/10/12 Langdale Horseshoe: Four NFRs enjoyed some great views on this Lakeland classic on Saturday.
---
11/10/12

The Hardmoors 60: more tales of epic runs from Steph here

(pdf)
---
08/10/12

Ian Hodgson Relay: well done to the NFR team for a very respectable run! Here's a report

(pdf)

from Dexter
---
06/10/12

The Ruth Fletcher Memorial Trophy: a thank you from Steph for the trophy presented by Ruth's brother here

(pdf)
---
04/10/12

Transalpine Run: a summary of Andrew Higgins' epic 8-day adventure with partner Adam Stirk in this video on YouTube
---
02/10/12

6000D Alpine Race: Here's Steph's account 'Midsummer Madness'

(pdf)

of her Ultra Race back in July
---

S Bailey & M Donnelly
battle it out
photos: Rob

Men's start

Women's start
29/09/12 Kielder Blast: a great day at Kielder. Simon Bailey (Mercia) first in the men's and Holly Page (Calder Valley) first lady. Impressive runs from NFR's Andrew Higgins (38th overall man), and Karen 6th overall lady! Many thanks to Will and his helpers and marshals for a great race.
---
23/09/12

The Viking Chase - Four Peaks: "...The course was well marked. Not a red tape in sight, but lots of red coats – a scary scenario for a Scot in England! ..." - Neil Gammack. Read Neil's full report here

(pdf).

Dave Aspin's photos here
---
23/09/12

Two Breweries Hill Race: half a dozen NFRs enjoy the run over the hills between two Scottish breweries. Report from OC.
---
22/09/12

Jungfrau Marathon: John Tollitt's account of his race in Switzerland on the Tyne Bridge Harriers' site here
---
15/09/12

'My Kielder Experience - An Account of The Kielder Fell Races from 1986 to 2005' : Quite a few years ago, John Humble, the man behind the formation of Northumberland Fell Runners, started putting together some of his memories of those early days of NFR > more
---
photo: Andy Russell

photo: Phil Green
15/09/12 Simonside Fell Race: Nick Swinburn and Karen Robertson take the honours "83 runners on a glorious sunny Northumbrian day!" - Phil.
---
11/09/12

Kielder Blast recce: a photo tour of the Kielder Blast route. Route maps here
---
11/09/12

Transalpine-Run: more incredible feats as NFR's Andrew Higgins and his partner Adam Stirk finish in 8th place (results) "... an incredible adventure and a brutal but brilliant race, up over and around some incredible scenery..." - Andrew Higgins. Event photos here
---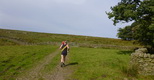 Out onto fell
- Andy Russell
11/09/12 Whitfield Village Fair Fell Race: Bernard gets bronze, but the race was quite a bit longer than runners had bargained for ...
---
10/09/12

Courmayeur Champex Chamonix Ultra Race: Here's John Telfer's epic report of his epic run

(pdf)
---
07/09/12

Dragon's Back Race: a colossal 5 day Ultra in the Welsh Mountains, run only once before, 20 years ago. A huge 'well done' to NFR finishers Joe Faulkner (who ran it the first time) and Andrew Burton. Ex-NFR Steve Birkinshaw won the race. Dragon's Back Race website
---
04/09/12

Ben Nevis: a good handful of NFRs tested their legs on this Scottish classic - here's John Butters' blog report
---
02/09/12

Northumberland Ultra: fours weeks ago Paul Appleby did this very long race around the Northumberland Hills - here's his report

(pdf)
---
02/09/12

Grisedale Horseshoe: four NFRs over at this Lakes race, here's a report from first NFR in, John Duff
---
02/09/12

Morrone Hill Race (Braemar Royal Highland Gathering): a report from Neil Gammack
---
01/09/12

Courmayeur Champex Chamonix Ultra Race: "A massive 'Well Done' to John Telfer and Chris Eggert who completed this extremely challenging event in atrocious conditions last night." - Steph
---
26/08/12 Bellingham Show Fell Race: it was a great sadness to hear of the passing of Michael Shields who has organised this race for many years. I personally had been looking forward to seeing Michael at this race. He was such a lovely bloke, and will be greatly missed.
The race was admirably won by Chris Winter (this was Chris's first fell race 3 yrs ago). Rachel Vincent (Tynedale) brought home the ladies.
---

another leisurely stroll out
- Rob
18/08/12 Falstone Falcon: a good race at the front end between NFR's Louis Goffe and Chris Winter, Louis the final victor. Beth Carter (Tynedale) leads the ladies home.
---
16/08/12

Guisborough Grunt: report from Will Horsley
---
15/08/12

Glanton Show Hill Race results from Pam Brown

(winners only)
---
14/08/12

a blast from the past: for your perusal - Simonside (Thropton Show) Fell Race results

(pdf)

from 2000 kindly sent in by Alex Watson.
---
14/08/12

Powburn Show race results from Glen McWilliams

(finishing order only)
---

beware beasts in the hills!
- Rob
12/08/12 Forest Burn Fell Race: a shortened course due to beasts in the hills. Won by Borrowdale's Andrew Schofield (who also ran Howtown). Sue Mitchell was first lady.
---

photo: Andy Russell
12/08/12 Howtown Fell Race NFR : a good turnout for this club championship race with John Duff first in for NFR and Steph was first lady.
---
12/08/12 Glanton Show Hill Race: well done to Phil Green who has made leaps and bounds in his running of late, winner of this resurrected Northumberland show race. Claire Bagness (Wooler RC) was first lady. 35 runners ran.
---
05/08/12

Borrowdale: a first classic Lakes fell race for John Butters. Here's his report
---

hot to trot
- Rob
05/08/12 Powburn Show: a warm and sunny day at Powburn made for a packed show and a strong turnout for the hill race. Phil Sanderson (Elswick) and Karen win the big prizes. Many thanks to Glen for this fast and fun race.
---
03/08/12

The 6000D Alpine Mountain Race: well done to Will Horsley and Steph Scott who took on this ultra. Here's Will's report
---
30/07/12

Lakeland 100 and Lakeland 50: "Twelve NFRs took to the trails and passes of Lakeland over the weekend for some very demanding exercise." > report from John Telfer
---
26/07/12

Cock Howe and Beyond: Phil Green's blog report. Dave Aspin's photos.
---
20/07/12

Wasdale: John Telfer's account of his day at this classic Lakes race here

(pdf)
---

evening mist
- Rob
13/07/12 Beacon Hill Fell Race: a record turnout and no rain! Nick Swinburn storms ahead and Karen continues to lead the ladies.
---
From Will: "Many of you will remember that last year's Beacon Hill fell race was the last race Ruth Fletcher competed in before she tragically died whilst diving off the Northumberland Coast on 17th July 2011. Earlier this year I received a bundle of pictures of Ruth and others taking part in fell races and other events. I have now scanned these and put them on the web here
You might be interested in viewing these pictures to remember what our sport has lost with Ruth's passing and to be grateful for having a chance to take part in the sport, even when you're having a bad day."
---
Journey's End

- P. Smith

11/07/12

Hadrian's Wall Run: NFRs Phil Smith and Lee Grant successfully ran the full length of Hadrian's Wall to support a friend Matt Atkinson in raising funds for 'Callums Wish to Walk'. > read more
---
10/07/12

Saltwell Harriers Fell Race results courtesy of Keith Wood. Race report to follow.
---

Carey Burn
- Rob

start
- Rob
08/07/12 Chevy Chase: over a shortened (about 15mi / 2900'), misty, boggy but thoroughly enjoyable course, Carl Bell (Howgill Harriers) and Angela Mudge take the honours. NFR get the men's team prize with Nick Swinburn, Phil Green and Mark Clarkson. Steph Scott, fresh from her BG, gets 2nd lady. Superb organisation as ever from Wooler and many thanks to everyone involved.
---
04/07/12 Saltwell Harriers Fell Race: Well done to Nick Swinburn who chalks up another course record, whilst Karen Robertson chalks up another win for the ladies!
---

Scott & Dexter completing
the Holy Island run,
in the 5.00 am sunshine
- J Charlton
01/07/12 Castles and Islands Challenge: "NFR boys cruise to victory in the 2012 Castles & Islands Challenge. Scott Gibson & Dexter formed the running pair, on the victorious team at this year's Challenge, in difficult sailing conditions over Friday & Saturday, winning by a margin of 1 hour. James Charlton was one of the sailing crew having to face the challenging conditions, on 'Team Dandelion D'Or', owned and skippered by James' brother Aidan. The remaining team member in the sailing crew, was James' father Alan." - Dexter
---
26/06/12

NAV 4 Dawn to Dusk: John Telfer "the first person to record a solo completion of the Dawn to Dusk epic Lakes Ultra" reports on his ultra long run.
---
26/06/12 Polite Notice: if you wish to use any photos, reports or any other submissions from any contributors to the NFR website for your own websites, blogs, newspapers, magazines, facebook pages etc. then please ask permission first, or at the very least credit where you took them from. Happily the majority of you already do this.
Thanks, Rob
---

all smiles
- Jill
25/06/12 Windy Gyle Fell Race: Nick Swinburn wins on home turf in a new record time. Karen wins the ladies, and barely a week after his epic Challenge, Geoff Davis is picking up prizes.
---
25/06/12

Whorlton Run: Dave Johnson reports
---
25/06/12

Durham Dales Challenge: Francis Shillitoe in 2nd place on the 30 miler. Here's Frank's report
---

final leg
- John T
21/06/12 Joss Naylor Lakeland Challenge: Geoff Davis
---

can you spot Karen?
- Marcus

Louis first NFR
- Pat
21/06/12 Humbleton Fell Race: Steve Birkinshaw leaves his mark on his old stomping ground, whilst Karen once again leads the ladies. Louis Goffe is first in for NFR.
A very enjoyable run on a perfect summer evening, and a good turnout at this exceptionally well organised race from Haydon Bridge. Thanks to Marcus, Dexter and their army of marshals and helpers.
---
18/06/12
Joss Naylor Challenge success:
"A massive well done to Geoff Davis who achieved the Joss Naylor Challenge yesterday in a fantastic time of 13 hours and 9 minutes. This was well inside the 15 hour limit that over 55 men have to follow in Joss' footsteps. The weather started off perhaps with more low cloud and wind than Geoff would have liked but he finished strongly in the sunshine at Wasdale, having had to navigate 3 of the 4 legs himself due to last minute change arounds of the support team following a well judged postponement to Sunday.
Congratulations Geoff - another excellent performance to add to the BG and '50 at 50'." - Steph
---
18/06/12

Great Lakes Race: tough conditions after torrential rain made for a very adventurous race - here's a report from Dave Johnson.
---

Steph descends

- John Telfer

(photos)

16/06/12

Bob Graham Round report: here's Steph Scott's BGR report
---

Karen lights the way

- Dexter

15/06/12

Olympic Torch: Karen proudly carries the Olympic flame through Newcastle.
---

heading for Beinn a Chochuill ridge
- John Duff
13/06/12 Lowe Alpine Mountain Marathon 2012:
---

Bloodybush bog
photo: Pat

Clennell St
photo: Rob
10/06/12 Alwinton Fell Race: Yetholm winner Hugh Aggleton (Mynyddwyr De Cymri) once again keeps Phil Sanderson in tow, with Dexter first in for NFR and Karen first lady.
---
04/06/12

and another Bob Graham Round success: "NFR's Chairperson Steph Scott successfully completed the Bob Graham Round earlier this morning in a time of 23 hours 32 minutes. She becomes only the second woman to complete the round as an NFR member (Louise Wilkinson being the first) and the first veteran woman. Steph was blessed with dry weather but had to combat a fresh to strong wind and cold temperatures. She ran steadily all the way and overcame the tough rocky sections with time to spare. Steph was supported by many friends from NFR, Tynedale and elsewhere and not least by her ever present 'roadie' Karen Robertson.

This wonderful effort was the culmination of many months hard training over the Lakeland Fells, Hadrian's Wall and the running track in Hexham! It is an achievement to be proud of.

Well done Steph!" - Geoff & Susan Davis
---
04/06/12

Hardmoors 110: A big well done to James Charlton on this exceedingly long run - he was 6th in 25hrs 35mins!
---

Sunnyside up!
photo: Rob
04/06/12 Yetholm Hill Race: Lee Bennett is first in for NFR (6th position), with strong running from Chris Winter and Gary Jones too. A few other NFRs having a good blast round too. Thanks as ever to Les and his team of helpers for this impeccably organised and superb race.
---
04/06/12

Druridge Bay 10k: Phil Green's report on his blog here
---
28/05/12

Bob Graham Round report from Andy Higgins on his blog here
---
26/05/12

NFR Championships 2012: here are the scores so far

(pdf)

from Will. Next race in the series: Alwinton Fell Race, 9th June > more info
---

descending Scafell Pike
photo: John Duff
21/05/12 Old County Tops: John Duff and John Telfer ran the 37mile race.
---
14/05/12

Coniston Fell Race: report from Dave Johnson
---
14/05/12

Bob Graham Round report from Phil Smith
---

Andrew Higgins on Steeple,
Scoat Fell in the background
photo: P Hainsworth
14/05/12 Another Bob Graham Round success: "Another fine but short weather window amidst the wettest spring in memory allowed NFR member Andrew Higgins to complete his Bob Graham round on Saturday 12th May 2012. Running clockwise with a 1am start, Andy arrived back at Moot Hall at 21:12 (running time 20h 12m). All the more remarkable considering he was significantly under par with a recently wrenched ankle and 'man-flu' leading up to the event. Two of Andy's running mates (not NFR) starting at the same time (but with separate support teams) turned out rounds of 19h 36m and 21h 07m. Andy look strong and 'cool as a cucumber' all the way round but I'm sure will tell his own tale in due course!" - Paul Hainsworth
update 28/05/12 Andy Higgins report on his blog here
---

High Pike
photo: Andy Russell
14/05/12 Fairfield Horseshoe: Karen Robertson wins the ladies race in this the third race in the NFR Grand Prix.
---
09/05/12

Joss Naylor Lakeland Challenge: here's Paul's report

(pdf)
---

Paul at the finish
with from the left
Dexter, Geoff and Joss.
photo: John Duff
08/05/12 Joss Naylor Challenge and Bob Graham Round success:

"Paul Hainsworth completed the Joss Naylor Lakeland Challenge yesterday. He finished in 11 hours 24 minutes, comfortably within the 12 hour V50 schedule. Conditions were perfect with a cool dry day, high clouds, and a following north-easterly breeze. From the start at Pooley Bridge to the finish in Wasdale, Paul was strong throughout and always up on schedule. He was met at Sty Head and the finish by Joss Naylor himself. Paul was ably supported by folks from NFR and it was a grand day enjoyed by all. Well done Paul - it was a tremendous effort." - John Duff.

"A couple of hours after Paul's success, Phil Smith embarked on his Bob Graham attempt, and also successfully completed that on Sunday evening. If my info is correct Phil completed the round in an impressively quick sub-21 hours time." - Dexter
---

Chilly Cheviot
photo: Keith Yeats
29/04/12 Cheviot Summit: Lee Bennett and Karen take the honours!
---

start of the climbing
photo: Andy Russell
22/04/12 Anniversary Waltz and the TWA: Phil Green is first NFR back in the Waltz, whilst John Telfer opts for the alternative Teenager With Altitude.
---

just a few of the team
photo: John Duff
16/04/12 Gisborough Moors: NFR win the men's team prize with Charlie Stead, Gary Jones, Lee Bennett and Gareth Huxley
---
08/04/12

Rivington Pike: NFR's Tom Cornthwaite wins this classic race. Results

(pdf)

and some photos on Ian Charters' Blog here
---
06/04/12

Causey Pike: Dexter reports

(pdf)

on this well established Lakes race.
---
01/04/12 Allendale Challenge: Dave Wiseman is first in for NFR, close on the heel of the winner Mark Thompson in 3hrs 48
---
26/03/12

Blakey Blitz: Phil Green reports on "Blazing Blakey Blitz" here
---
20/03/12

Hardmoors 55: well done to four NFRs for completing this ultra race on Saturday. Here's John Telfer's account

(pdf)
---

Scott and Dexter battle it out
photo: Lee Bennett
19/03/12 Middle Fell Race: Jill Bennett writes: "My first Lakeland fell race, an undulating and very muddy out and back section, with a sharp climb up Middlefell inbetween. Conditions were mixed...sunshine in the valley, rain on the slopes and snow on the summit. Karen was first woman, Steph third. Dexter and Scott also had good placings. Stunning views and scenery made this one well worth the drive over."
---
15/03/12

NFR Grand Prix: please note slight change in competition rules "A competitor's overall score will now be made up of their best FIVE results from the nine races" all other rules remain the same (see full rules here) - Will & Steph.
---
11/03/12 Glaisdale Rigg:
---

Phil and Lee take it to the wire
photo: Jill Bennett
04/03/12 Brough Law Fell Race: Once again Phil Sanderson is first back for the men, whilst DFR's Fiona Blackett sets a new course record for the ladies.
---
28/02/12

Commondale Clart: some good running again from NFRs in the North York Moors, here's Phil Green's report. Photos courtesy of Dave Kirk here
---
26/02/12

High Cup Nick: John Tollitt writes: a few NFRs did this race on Saturday, Chris Winter first home for NFR followed in by John, Bernard, Joe and Andrew Callcott. Winner was Carl Bell, Howgill Harriers, 1.01.11 (course record). Helen Elmore, Dark Peak 1.16.52 (first lady)results on FRA website
---
20/02/12

Harvey Howgills Tops Round: Will Horsley completes the 40 mile course in 9hrs 25. Read his account on the Elvet Striders' website here
---
12/02/12

Snakes & Ladders Race, Australia: only been in Oz a few days and Jamie Wilkinson is already bumping into people he doesn't know. Here's Jamie's report

(pdf)
---

photo: Dave Aspin
12/02/12 Danby Beacon: a good turn out at the first race in the NECAA/NEHRA Championships. Gary (a very close 2nd), Charlie and Lee all in the top seven. Results & report on Esk Valley website
---
11/02/12

Carnethy 5: John Tollitt leads NFR home at this traditional Scottish season opener. Here's John's report
---
12/02/12

Wadsworth Trog: a long cold run for John T & John D, with a change of plan when a fellow runner turns an ankle. John Telfer's report

(pdf)
---
09/02/12

NFR Grand Prix: here are the NFR Championship races for 2012 (now including rules for competition), chosen by Will & Steph
---
07/02/12

Great Lakeland 3 Day, 5th -7th May: after a short break, this adventurous 3-day mountain marathon makes a return > read more
---
28/01/12

changes of office: following the AGM, John Telfer is the new club secretary after Phil Green steps down, Steph Scott is chairwoman after Matt Simms steps down, and Steph also joins Will as championship race selector. All other positions remain the same. Thanks go to all.
---
20/01/12

Bye for now: a message from Jamie Wilkinson who is heading off to Australia.
---
17/01/12

Clay Bank East: it's a very close finish for Phil Sanderson. Report from Phil Green
---
03/01/12 Alternative New Year's Day races:
---

trying to get into the spirit
- Jill Bennett
01/01/12 Hillforts and Headaches: New Year's Day, and another record turnout at Rothbury sees some of NFR's finest runners battling it out.

---